Supply chain shortages, shipping issues, and rising raw material costs mean it's particularly tough to get hold of returnable containers right now.
Demand is high and prices are soaring. Lead times for new assets have doubled and it's not uncommon to be quoted up to a year for their delivery.
For those involved in chemicals and distribution, about the only option most companies have right now is to pay too much or to make better use of what they've got.
It's staggering given the current market conditions, but some companies still have absolutely no idea what containers they have available.
We regularly hear stories of orders coming in and warehouses coming up short, unable to source the required quantities.
If they'd used TrackAbout's asset management software, they could have seen they were running low on stock and moved containers from another site to solve the problem. Instead, they end up paying high prices for replacements or letting their customer down by not being able to fulfill the contract.
Why TrackAbout?
Our serialized tracking software means companies always know the whereabouts of their valuable containers, cylinders, and totes. By simply scanning a barcode, serial number, or QR code, a unique ID shows exactly where they are and how long they've been there.
Central to our Tracking module is the Current Inventory page, which provides an instant overview of all your assets, their contents, and status. From this single screen, users can pick through their inventory by location, customer, or a multitude of attributes – whether valve type, manufacturing date, or manufacturer.
Search by location – whether it's at a customer's site or internally – or break it down by category, group, type, product code, and much more. You can even drill down and check for assets by whether they're available, in use, or undergoing maintenance.
Imagine receiving a large order for 100 totes and being able to check whether there are some ready to use in a particular warehouse – and if not, finding another location they could be sourced from.
Another particularly useful feature is the Limits field, which you can set to only show assets that have, or have not, been scanned within a certain timeframe. All too often, empty cylinders may be sitting unused somewhere. That's great if you're receiving rent for them but otherwise, why not put them to good use?
Making Better Use of Your Assets with Quick Maps
Quick Maps is another popular feature and a key part of our Tracking module that lies just a couple of clicks away from the main dashboard.
We're all familiar with Google Maps, but TrackAbout has added even more functionality by allowing users to visualize the specific location of their assets based on when they were last scanned.
Search by Customer or Product Code and you'll see color-coded tags showing exactly where your cylinders or containers are, anywhere in the world.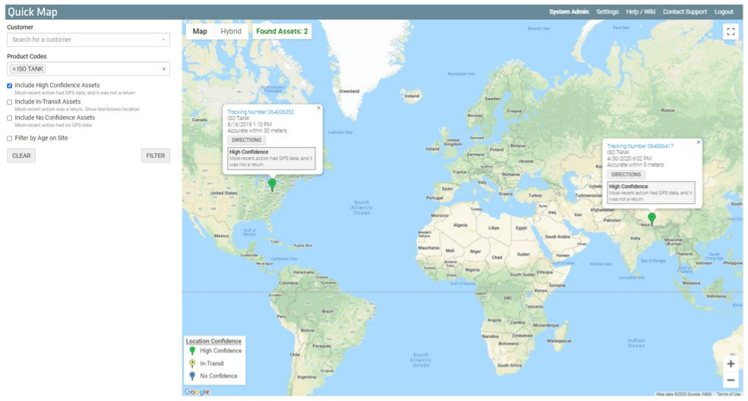 Each click on the location marker zooms further into the map, drilling down to within just a few meters of where it was last scanned.
Clicking on the specific entry provides access to the asset information and its history.
With the pressures currently facing the marketplace, our tools make even the most complex tasks easy, saving you money in the process. That's why TrackAbout software is trusted by thousands of customers to help them monitor and manage their assets.
Why buy new containers when you can just make better use of what you have?
Ready to take the next step? Request a free TrackAbout demo.