Our ongoing Feature Spotlight series highlights one important tool in the TrackAbout toolbox to help you operate more efficiently and maximize the utilization of your assets.
One smart way companies can increase rental revenue and incentivize customers is by applying rental rates based on customer's use of products and services. Rental best practices recommend you would charge customers a lower rate when they're renting greater quantities of assets from you and increase the rate as their usage decreases.
TrackAbout's Tiered Rental module allows you to do just that; charge different rates for the same product depending on quantity with rental tracking and invoicing software.
How it Works
Tiered Rental is a feature within your TrackAbout Rental Module which provides an ability to set sliding rental rates based on the number of items held by customers at the end of the month.
As an example, consider the Rental Class called "Industrial." Based on the kind of incentive you want to give your customers, you may set multiple tiers to control pricing.
Tier 1 - $0.25 a day for each asset when the total asset count is between 0 and 5,
Tier 2 - $0.20 a day for each asset when the total asset count is between 6 to 10
Tier 3 - $0.18 for each asset per day when the total count is 11 assets or more.
You'll notice in the example, as the customer's balance increased, the applicable rental rate decreased. However, pricing for your rental tracking can be set up however you like based on your company's pricing model.
Set up
Tiered Rates can be created and applied at all levels (i.e. Standard, Bracket, and Customer Specific Rates) and they can be set for Rental Classes or Asset Types. (Refer to the TrackAbout Wiki for more information about Rental Rates and Methods).
This is how the pricing structure, as described above, would appear on the Rental Class "Industrial" when set up in TrackAbout: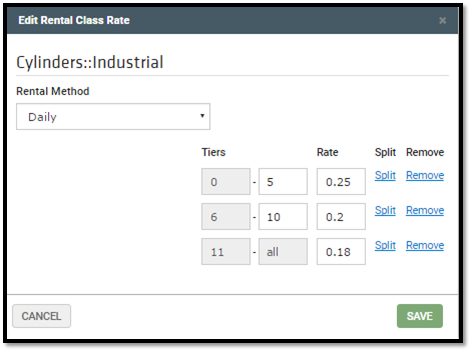 When editing rates, click Split to create a new tier. You can create as many pricing tiers as you need and click Save when complete.
Rental Invoicing
Once your tiers are set up, TrackAbout takes care of the rest for you. Based on your customer's rental balance at the end of the month, TrackAbout will apply the appropriate rental rate for rental invoicing. The following is an example of two rental invoices for the same customer in the same billing period.
Here, the customer has 3 assets at the end of the period gets a rental rate of $0.22 per asset per day.

The same customer with 13 assets at the end of the period gets a rental rate of $0.20 per asset per day.

Why you need it
"Set and Forget." Lower the amount of maintenance to keep your rates at optimal levels.
Provide an incentive to customers for using more of your product
Decrease occurrences of over and under charging by letting the system take care of applying the correct rental rate for you.
Tiered Rental is already part of your TrackAbout Rental Module subscription and can be enabled at any time.
Contact our Support team at support@trackabout.com with any questions.