Our ongoing Feature Spotlight series highlights one important tool in the TrackAbout toolbox to help you operate more efficiently and maximize the utilization of your assets.
Consumables and Hard Goods Delivery and Billing
What are Consumables and Hard Goods? As opposed to Rental goods, which are rented out to customers and then returned to you, Consumables and Hard Goods are items provided to your customers that you don't expect to have returned. These could be items such as medical tubing, welding wire, gloves, goggles, etc. You may not need to track each of these items individually, but you need to know how many and of what type made it to the customer. You can deliver these, and bill them, right out of TrackAbout.
About Consumables and Hard Goods
TrackAbout provides the ability to deliver consumable and hard good items to customers right along with tracked assets. In addition, when using Equipment Rental through the TrackAbout Rental module, you can bill customers for those items on the same TrackAbout rental invoice generated for regular monthly rental.
Setup
The feature to deliver consumables is already included in your Core Tracking subscription, however it is not turned on by default. You will need to submit a request to your TrackAbout Support team.
Once enabled, you will have a new page available on the TrackAbout website called Hard Goods Product Codes. Use your Jump To Quick Search feature to navigate to the page.

This page will allow you to create and manage your Consumable/Hard Good product codes.
Click Add New Product Code to create new items. Hard Goods are defined by name, description and tax category. Here is an example of how a Welding Hose product would be set up:

Complete the form and save each Consumable / Hard Good product code.
Use the Page Filter to search through your list and look for specific Hard Good Product Codes.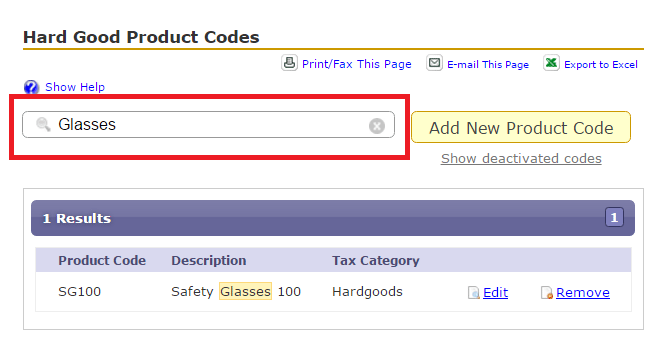 Edit and Remove options are available to update Consumable/Hard Good products or remove them from the system.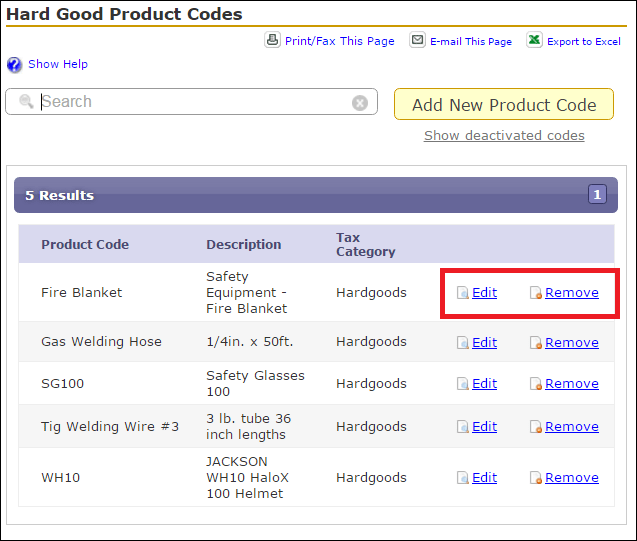 Delivering Consumables and Hard Goods
Once in place, users will be able to include Consumables and Hard Goods in deliveries. You will see the option "Hard Goods" when conducting a standard delivery. In this action, we use the term "Hard Goods" to cover both Hard Goods and Consumables.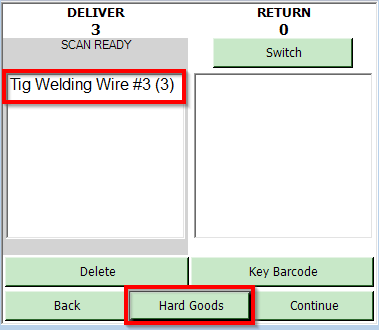 When the delivery is saved, the TrackAbout Delivery record will include the line item details about any Hard Goods or Consumables provided to the customer.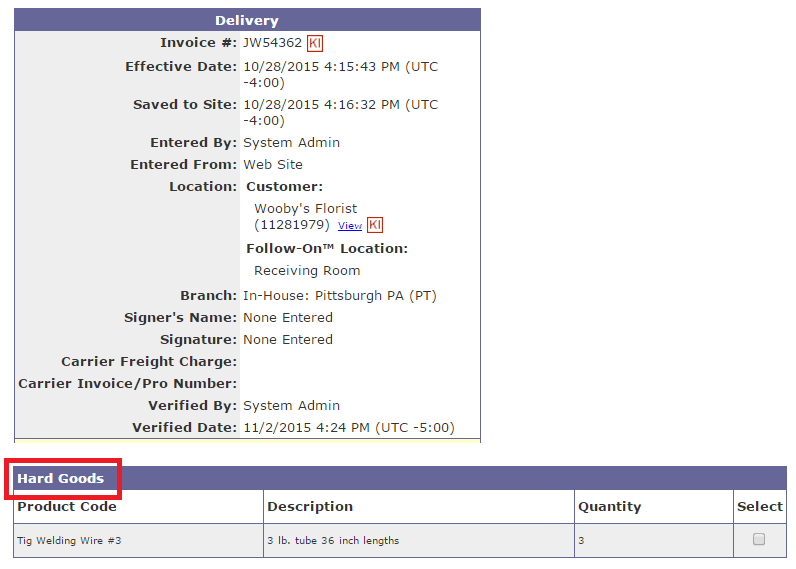 For customers using Proof of Delivery, you will be able to include Consumables and Hard Goods on Orders created in TrackAbout or sent over from your accounting system in preparation for delivery.
Rental Invoicing
Billing for Consumables and Hard Goods is available when using Equipment Rental through the TrackAbout Rental module.
Just like for rental products, Consumables and Hard Goods are set up with prices. You can set default (Standard) rates for these products, or set special pricing for Consumables / Hardgoods on each individual customer.
TrackAbout corresponds these purchase prices with the quantity of Consumable and Hard Good items delivered to your customers as captured on their delivery records.
At the end of the equipment rental billing period, Consumables and Hard Goods will show as line items on the Equipment Rental invoice.
See here an example of how Welding Wire (Tig Welding Wire #3) shows on the invoice: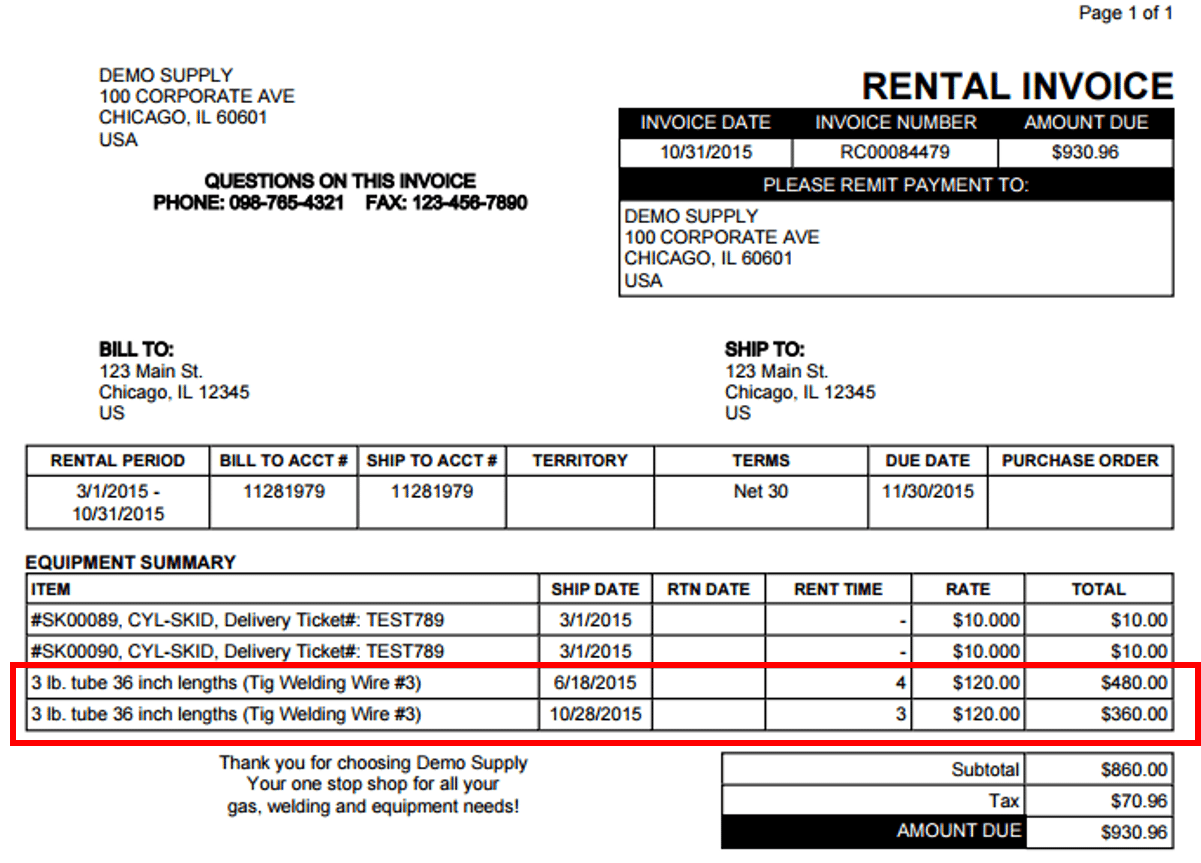 Simplify your delivery and billing processes
One system to track both Hard Goods/Consumables and rental items.
One invoice can cover both equipment rental and Consumable/Hard Good costs
Reduce manual errors and increase rental revenue by making sure fees are being consistently applied.
Basic Consumable / Hard Goods features are available to all TrackAbout customers subscribing to Core Tracking. To add billing features, the TrackAbout Rental Module is required.
Contact our Support team at support@trackabout.com with any questions.