This month's update includes new TrackAbout features and enhancements on the web and mobile devices.
Highlights
Upcoming Operating System Requirement Change for TrackAbout Mobile 7 (iOS)
Apple iOS 13.4 or later will be required to run TrackAbout Mobile 7 for iOS on iPhones and iPads starting with the next release, currently scheduled for August 2022.
TrackAbout Mobile 7 will no longer be updated or supported on devices running iOS 13.3 or older.
We recommend updating iOS on any devices running TrackAbout Mobile 7 to the latest version NOW to ensure continued compatibility, support, and access to the latest TrackAbout features.
List Exchange Asset Types in Customer Asset Lists
You — and your customers that use the Customer Tracking Portal — now have the option to list Exchange Asset Types in customer Asset Lists.
To use the new option, select Include Exchange Asset Types when defining your search.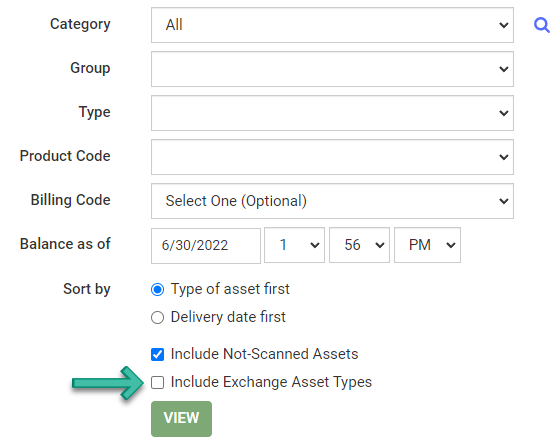 You'll know if an asset is an Exchange Asset if it has an asterisk in its Type column.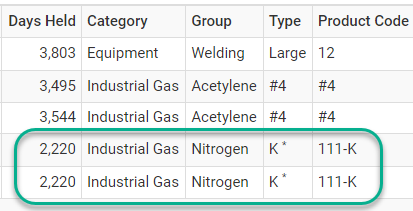 The balances displayed here for displayed Exchange Asset types may not be accurate. For accurate balances, check the Rental Balance page.
Asset Collision Alerts
The sooner you know there's been an asset collision in TrackAbout, the faster you can respond to it. That's why we've added a new alert type, called Asset Collision.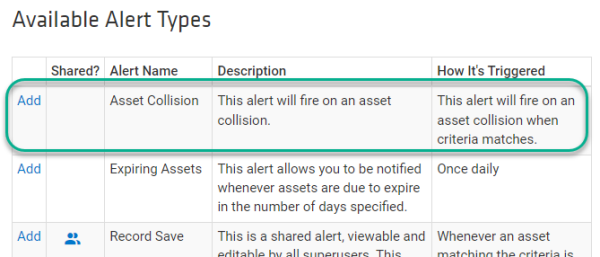 You can setup an Asset Collision alert to email you (and/or one or more others) whenever a collision occurs involving specific location, action, or sub-action IDs.
To setup an Asset Collision alert, go to TrackAbout ► Alerts ► Add New Alert and click ADD A NEW ALERT.
Enter a Name for the alert (required) and optionally a Note to help you remember later why the alert was set.
If you alert the trigger only the first time the defined collision is detected, check One-Shot: Make this alert a One-Shot. If you want the alert to trigger every time the defined collision is detected, leave this unchecked (it's the default setting).
Turn the alert on by selecting This alert is: Enabled (this is the default setting). To turn the alert off, select This alert is: Disabled. Disabled alerts aren't deleted — you can turn them back on later.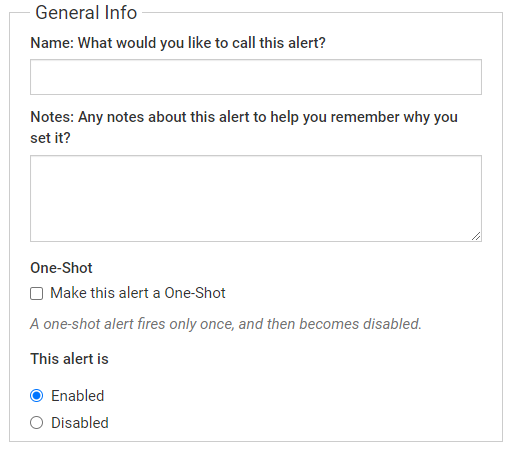 Enter the email address(es) the alert will be sent to, separating the address by line (hit ENTER) or semi-colon. To easily add your own email, click ADD MY EMAIL.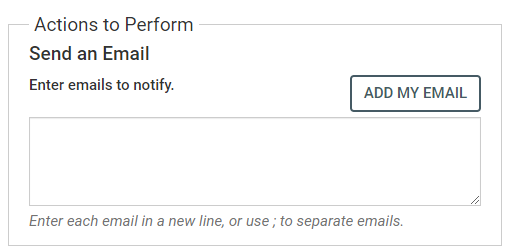 Specify the Action IDs, SubAction IDs, and Location IDs the alert will monitor for collisions.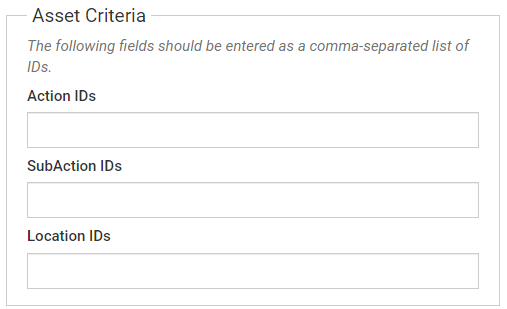 When you're done defining the alert, click SAVE.
Register Pallet Key Field Collection and Validation on TrackAbout Mobile 7
You can now collect and validate key fields — serial number, manufacturer, and manufacture date — when registering pallets (aka containers) using Register Pallet / Container in TrackAbout Mobile 7.
To enable key field collection and validation for Register Pallet / Container, the UseDetailedContainerActions configuration setting (TrackAbout.com ► SU - Client/User Maint. ► Edit Client Configuration) must be set to True. If set to False, you will not be prompted to collect the manufacturer or manufacture date, and TrackAbout will not attempt to validate the key fields.
Print Lot Labels for Not Scanned Assets
Lot labels for not-scanned assets can now be printed from TrackAbout.
TrackAbout can now print lot labels for not-scanned Rack Fill assets. To print a lot label for not-scanned assets, just click Next instead of scanning an asset.
Set EnableNonHolderAssetsDuringFill to True to enable this functionality.
Delivery Receipt Email Enhancements
We've made some changes to the way delivery receipt emails work in TrackAbout Mobile 7.
Up until this release, drivers could change the email address TrackAbout sends a Delivery Receipt to before they send the receipt. Now, the address TrackAbout automatically puts in the delivery receipt To field can no longer be changed during receipt delivery. This ensures the receipt is always sent to the address TrackAbout has on record for the holder.
If there is no address on record for the holder, drivers can still manually enter an address before sending the receipt.
We've also added a new configuration setting that gives drivers the option to add additional email addresses to a receipt as CC recipients.
AllowEmailingDeliveryReceiptCopies
True: Users can add additional addresses to Delivery Receipts.
False: Users can not add additional addresses to Delivery Receipts.
Support for Add New/Edit when Sorting Assets and Containers on TrackAbout Mobile 7
Add New/Edit lets you add a new asset or select an asset already being sorted and replace it with another from the Enter Assets screen when sorting assets (Sort Assets) or containers (Sort for Filling, Sort for Maintenance, Sort for Delivery, Sort for Interbranch Transfer). This functionality was previously available only in TrackAbout Mobile 6.
To enable Add New/Edit in TrackAbout Mobile 7, set AllowEditAssetDuringSortActions to true and AddNewModeTAMobile7 to GenericWithLookup.
Support for Work Orders when Sorting Containers for Filling on TrackAbout Mobile 7
If you use work orders you can now display the work order priority screen in Sort Container for Filling (aka Sort Container) on TrackAbout Mobile 7. Previously, you could only do this on TrackAbout Mobile 6.
To enable the work order priority screen in Sort Container, set UseWorkOrders to true.
Dynamic Forms and Send to Maintenance on TrackAbout Mobile 7
On TrackAbout Mobile 7, if a dynamic form is configured for Send to Maintenance, Sort Assets and all of the Sort Container actions (except Sort for Maintenance) will give users the option to send an asset to maintenance through a menu item.
Sort for Maintenance will operate in "Send to Maintenance mode", which automatically collects a reason for maintenance and creates a Send to Maintenance record before adding an asset to the container on the Sort for Maintenance record.
Quality of Life Improvements
An issue that prevented Analysis from working with Ramp Lots (aka Lot Level 3) in TrackAbout Mobile 7 has been corrected.

TrackAbout POD delivery receipts are now sent to all holders on a route, not just holders in the same location the driver is logged in to.

Reserve for Order in TrackAbout Mobile 7 now displays the correct asset count in the order list after using Save and Reserve Next.

We've improved TrackAbout Mobile 7 for Android's compatibility with Android 12.
Got questions? Please contact your TrackAbout Support team at support@trackabout.com. We'd love to hear from you!