The January 2023 release adds several new features to both TrackAbout Web and TrackAbout Mobile 7 for iOS and Android.
Highlights
Physical Inventory in TrackAbout Mobile 7
Physical Inventory is now available as an action in TrackAbout Mobile 7 (TAM7). Previously only available in TrackAbout Mobile 6 (TAM6), the TAM7 version of Physical Inventory includes all the functionality in the TAM6 version, adding the option to audit Asset Families in addition to Asset Family Collections and all assets in a location, and makes the lookup process more efficient by taking advantage of the smart device platform.

Using Physical Inventory on TrackAbout Mobile 7, your team can easily scan assets with their smartphones and find out which assets, if any, are not where you expect them to be. Physical Inventory keeps a running total of found and missing assets, helping locate missing assets. At the end of the process, you can reconcile the audit through the TrackAbout mobile app.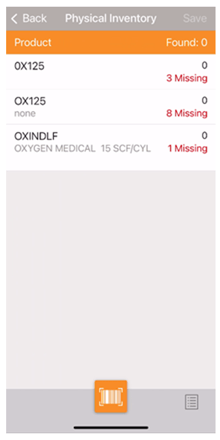 Physical Inventory is available as part of TrackAbout's Tracking Module. If you are unsure whether this feature is available to you, please contact our Support Team at support@trackabout.com.
For details on Internal Inventory audits and using Physical Inventory on TrackAbout Mobile 7, check out Internal Inventory Audit on the TrackAbout Wiki.
Export Order Planning Results to Excel
Orders > Order Planning — Order planning results can now be downloaded as an Excel (.xlsx) file. The file contains all the order information shown in the Orders results list, including line-item details. It can be saved and printed out or shared as an offline backup for drivers, for management reports, or as part of your auditing process.
To download order planning results, find orders using Enter Order Filter Criteria, then click EXPORT.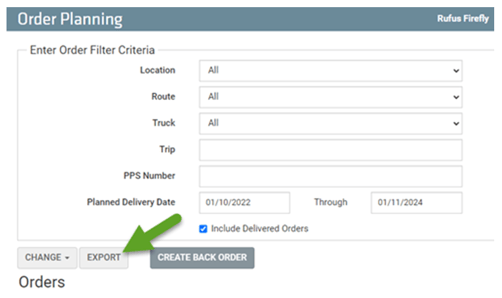 Reuse Lot Numbers While Filling Racks
Up until now, when you tapped Next Rack in TrackAbout Mobile 7's Rack Fill action you were not permitted to fill two different product grades or qualities using the same lot number. Next Rack now gives you the option to do so, as long as the asset families are in the same Asset Family Collection.
By default, Next Rack will continue to prevent you from changing the asset family. To turn this new option on, please contact support@trackabout.com.
New TrackAbout Mobile 7 (iOS and Android) Features
You can now view and print copies of signed Customer Audit receipts for your customers. To enable printing, please contact support@trackabout.com.
NOTE: Printing is only supported on Android devices.
Product codes that were manually entered during a POD delivery are now marked with an asterisk in the delivery record's detail page.

Not-scanned assets can now be added during Truck Unload even if their Asset Family isn't configured as Fully Tracked.

You can now easily save an analysis and go on to the next one in a single step. To save and start a new analysis, click the new NEXT button at the end of the analysis instead of SAVE.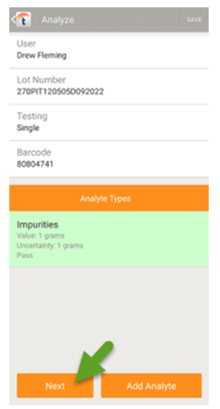 TrackAbout Web App Quality of Life Improvements
Normal (non-bulk) assets in Bulk Deliveries are now counted during truck reconciliation.

The option to display the assets inside a container by clicking Expand to Show when using the Containers view on a record has been restored.

In Spanish-language versions of the TrackAbout Web App and TrackAbout Mobile 7, CAI (Custom Asset Info) names in Register Asset, Relabel, and Lookup Asset are now correctly shown in Spanish instead of English.

Delivery receipts viewed through the TrackAbout mobile app now show the date and time in local time to match what's shown on printed receipts.

An empty signature image is now shown if a delivery receipt record is unsigned.

If you use ramp lots, the Ramp Lot number is now shown in the Lot Number field in detailed Current Inventory searches.
Got questions? Please send an email to your TrackAbout Support team at support@trackabout.com. We'd love to hear from you!