The August 2022 release brings a number of new features added to TrackAbout Mobile 7.
Highlights
Operating System Requirement Change for TrackAbout Mobile 7 (iOS)
Apple iOS 13.4 or later is now required to run TrackAbout Mobile 7 for iOS on iPhones.
TrackAbout Mobile 7 will no longer be updated or supported on devices running iOS 13.3 or older.
We recommend updating iOS on any devices running TrackAbout Mobile 7 to the latest version to ensure continued compatibility, support, and access to the latest TrackAbout features.
Save and Add More comes to TrackAbout Mobile 7
Adding new assets through TrackAbout Mobile 7 just got faster.
Until now, if you wanted to add multiple assets that share the same information (like product code, ownership, and manufacturer) you'd have to click Add New from the menu and manually fill in the information fields for each asset.
Enter the new Save and Add More feature.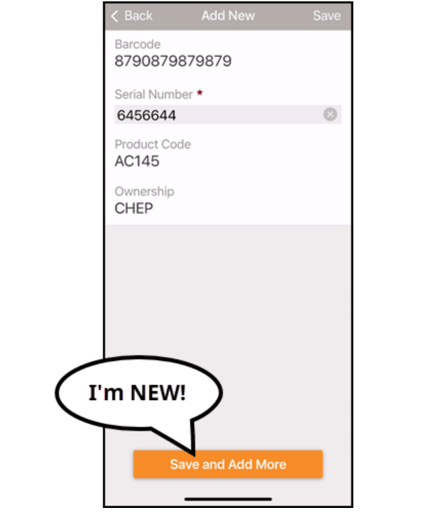 Like Add New's "classic" Save, Save and Add More creates a new asset, but it also streamlines things by:
Returning you to the scanner instead of the menu

Retaining per-filled information for appropriate fields



Of course, you still have the option to use Save (in the upper right corner).
Use Save when you're adding a single asset or are done adding assets that share the same information.
Use Save and Add More when you're adding more than one of an asset and you want to use the same information for all of them.
Here's how it works:
Tap New Asset.

Scan the first asset.

Enter the requested information on the screens that follow (tap Next to continue).
When you get to the Summary screen, tap Save and Add More to create the new asset and return to the Scan screen.

Scan another asset.

Confirm the pre-filled information is correct by hitting Next until you get to the Summary screen.
Tap Save and Add More to add another asset using the same meta-data or tap Save to stop adding new assets.
Print Lot Labels Upgraded on TAM7 (Android Only)
You can now print and reprint lot labels with Print Lot Labels from the TrackAbout Mobile 7 for Android app.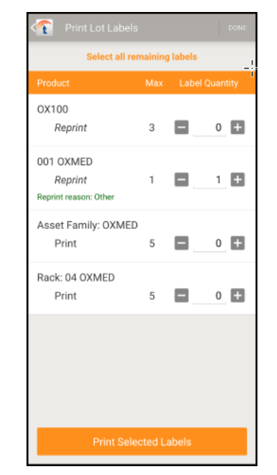 How it works:
Tap Print Lot Labels

Scan or select a lot.

This brings you to the Print Lot Labels main screen. For each product type in the lot, this screen shows you how many labels need printed for the first time and how many can be reprinted.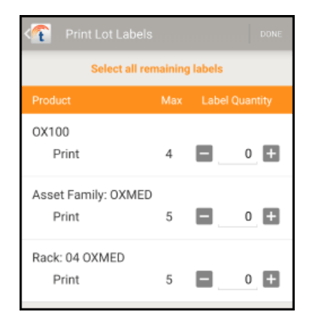 If none of the labels for a product type have been printed yet, you'll only see a Print option.
If all the labels for a product type have already been printed, you'll only see a Reprint option.
For each product type (Product), tap

(plus) or (minus) to select the number of labels to print or reprint (Label Quantity) up to the listed maximum (Max).

If you're reprinting one or more labels for a product type, you'll be prompted to enter a reason why you're reprinting. Tap to enter a reason.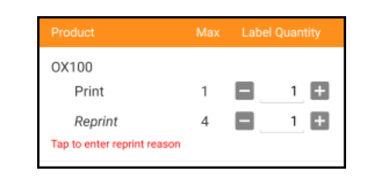 You can select one of the existing reasons, or Other to enter a different reason.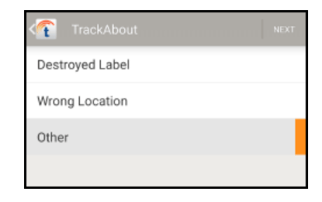 If you don't provide a reason, you won't be allowed to reprint.
When you're ready, tap Print Selected Labels.

Printing or reprinting a label generates a record, by product code. The reprint record includes the reason for the reprint.
Easier Location Selection for FOT Customer Actions in TAM7
We've added Location search to the Customer Portal (formerly Follow-On Tracking, or FOT) Customer Move Assets and Record Volume Weight actions in TrackAbout Mobile 7, making it easier for your Customer  Portal users to select a location.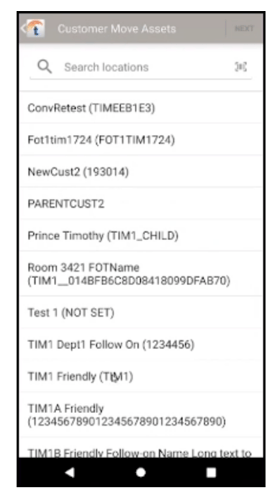 Quality-of-Life Enhancements
Delivery with Order Integrated Sync (formerly Paperless Delivery, or POD) on TrackAbout Mobile 7: Orders are now removed from the order list immediately on delivery even if the mobile device is offline, helping prevent orders being inadvertently delivered twice. Previously, delivered orders remained on the list until the next time the device was online.
Dynamic Forms on TrackAbout Mobile 7: Custom actions can now be designed to let users scan an asset and trigger a Dynamic Form based on the scanned asset's product code without having to prompt the user to manually select a product code first to trigger the right dynamic form.
TrackAbout.com: We've fixed an issue that kept Working Location from being saved if the selected location was different than the primary location and paperless delivery (POD) was disabled when editing a user.
Got questions? Please contact your TrackAbout Support team at support@trackabout.com. We'd love to hear from you!