With the supply chain currently strained to an unprecedented level, it is more important than ever for suppliers to stay on top of their shipments – from ensuring timely order fulfillment to monitoring loading and uploading, and tracking the real-time status of deliveries.
In order to accurately track inventory, shippers need to go through a reconciliation process, which compiles detailed information of assets coming on and off vehicles.
If not automated, this process is fairly time-consuming and does not allow for mistakes to be caught and resolved early on.
TrackAbout helps suppliers minimize that risk by providing them with reliable software that tracks returnable assets, such as chemical containers and gas cylinders.
The Truck Reconciliation & Manifest module within the TrackAbout platform is particularly aimed at facilitating the reconciliation process.
Highlights
How the Truck Reconciliation and Manifest Module Works
What is Reconciliation?
Doug O'Dell, VP Sales at TrackAbout, compares the reconciliation process to a busload of identical people. The bus driver must pick up and drop off specific people at each stop, but requires extra information to be able to differentiate them.
"Although the driver can easily count the number of people on the bus at each stop, this does not ensure the specific people we expected to get on and off did so, even though the total number of people on the bus is correct," explains O'Dell.
To complicate things further, in the case of containers, a driver must also be aware whether they are full or empty once they are uploaded.
Many companies lack that information as they would traditionally count full and empty assets at the start and end of the day and then compare the number to the documented deliveries and returns. This process is referred to as non-serialized reconciliation and it only exposes any missing or extra assets a supplier may have.
However, there are many other potential issues that could come up in the process of delivery that could not be tracked and resolved without the use of an automated process.
However, there are many other potential issues that could come up in the process of delivery that could not be tracked or resolved without the use of an automated process. These common issues include:
Re-delivery of an empty asset picked up earlier in the day.

Container or asset scanned as a delivery but remains on the delivery vehicle.

Container or asset scanned as a return but left at the customer.

Container or asset stolen from delivery vehicle.

Delivery person intentionally bypassing the system (employee theft).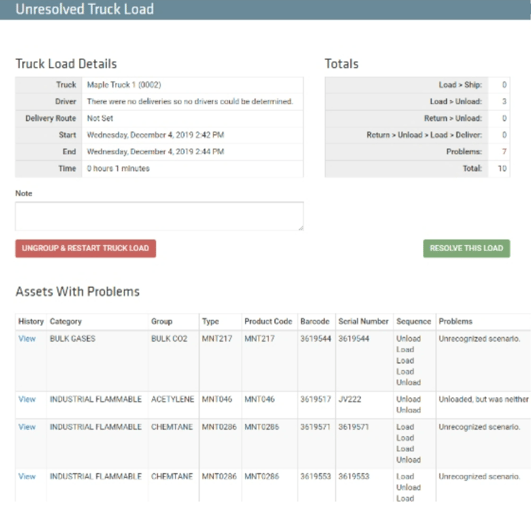 How the Truck Reconciliation and Manifest Module Works
The Truck Reconciliation and Manifest module is what would help the bus driver in the example above to differentiate the undistinguishable people on board. It allows for identical assets to be recognized with the use of additional identification – such as a barcode label, a QR Code label or an RFID [radio-frequency identification] tag.
The label or tag is then scanned using a special reader or an app that can be easily downloaded on any smartphone. The app would then instantly sync the scanned information with the supplier's online profile and allow them to track the container's specific location, route and content.
The reconciliation process can then be easily completed by using a few simple steps:
Each asset is labeled with a unique number.

All assets are loaded onto the delivery vehicle and scanned (start of day Load).

All assets are scanned to and from the delivery vehicle as they are delivered or returned from customer locations.

All assets remaining on the delivery vehicle at the end of the day are scanned (end of day Load).

Using these data points, the delivery day is reconciled, and any mistakes are identified.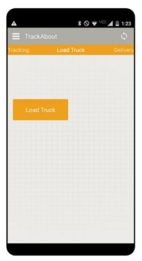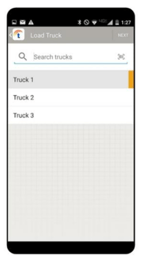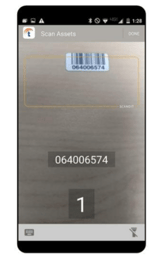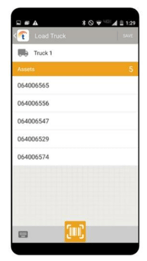 The automatic verification of assets allows companies to speed up their delivery times, ensure proper order fulfillment and prevent errors and omissions, such as redelivering empty containers. This in turn improves businesses' asset utilization, hence reducing spending on replacement containers and boosting rental revenues.
It simplifies reconciliation by limiting paperwork, while boosting efficiency and contributing to a more sustainable industry altogether. This is done by avoiding unnecessary redeliveries in the case of an error and also by encouraging customers to return their containers instead of dumping them.
Make the Most of the Manifest
As part of the module, drivers can also complete the so-called manifest – an accurate list of all the assets that were boarded on the vehicle when it departed.
Drivers in most countries are required to create a manifest at the start of each course, which is typically done with pen and paper.
The Truck Reconciliation and Manifest module automatically generates these documents, therefore avoiding manual errors and increasing efficiency.
"Because the reconciliation module requires the scanning of all cylinders onto the delivery vehicle, we can use that information to create a pre-populated form that serves as the manifest," says O'Dell.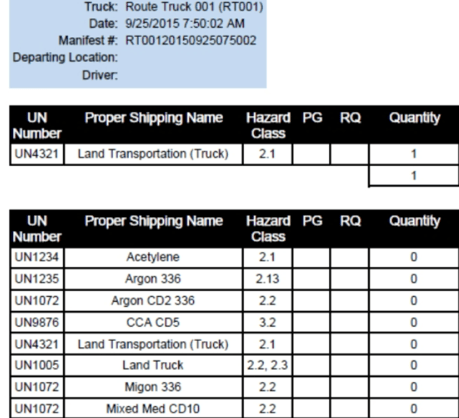 TrackAbout's tracking software maintains tight integrations with Datacor ERP, which together create a complete supply chain solution for the packaged gas and chemical distribution industries.
To ensure the software is accessible to various businesses globally, it is available in multiple languages, including Chinese, French, German, Spanish and Italian among others.
Ready to take the next step? Request your free TrackAbout demo.
Need even more functionality? We've got a range of additional modules available to help your business.