For most gas distributors, their largest – and most valuable – resource is their cylinders. With hundreds, if not thousands, of them being moved from customer to customer on a daily basis, distributors are likely to have more money tied up in these assets than they have invested in their trucks and buildings combined.
Yet although cylinders are probably their biggest outlay, it may be surprising to hear the majority of them have absolutely no idea just how many they own, how long they've had them, or exactly how they're being used.
It's certainly not unusual for businesses to underestimate the number of cylinders in service, often mistakenly replenishing their stocks when there's really no need. And with each typically costing anywhere between $300-$3,000, that could be an expensive mistake – particularly in the current marketplace with demand high, prices soaring, and lengthy lead times for replacements.
And that's where TrackAbout's asset management software comes into play – providing all the insight you need to manage, monitor, and control these valuable assets.
Benefits of Tracking Serialized Cylinders
In the first year of implementation, we find our customers rarely need to buy any new stock at all because they're better utilizing the fleet they already have. In fact, by using asset tracking software, our customers have found the associated savings actually pay for their subscription many times over.
Take, for example, a typical distributor with a fleet of 25,000 cylinders. Within their first year of using TrackAbout, they could expect to recover as much as $45,000 in lost rent, catch up to $24,000 of billing mistakes, and avoid unnecessarily spending $75,000 on replacement cylinders because of better utilization.
With many companies now requiring distributors to have asset tracking software to win or retain their business, our research also suggests it could actually help to generate an additional $45,000 in new revenue as well.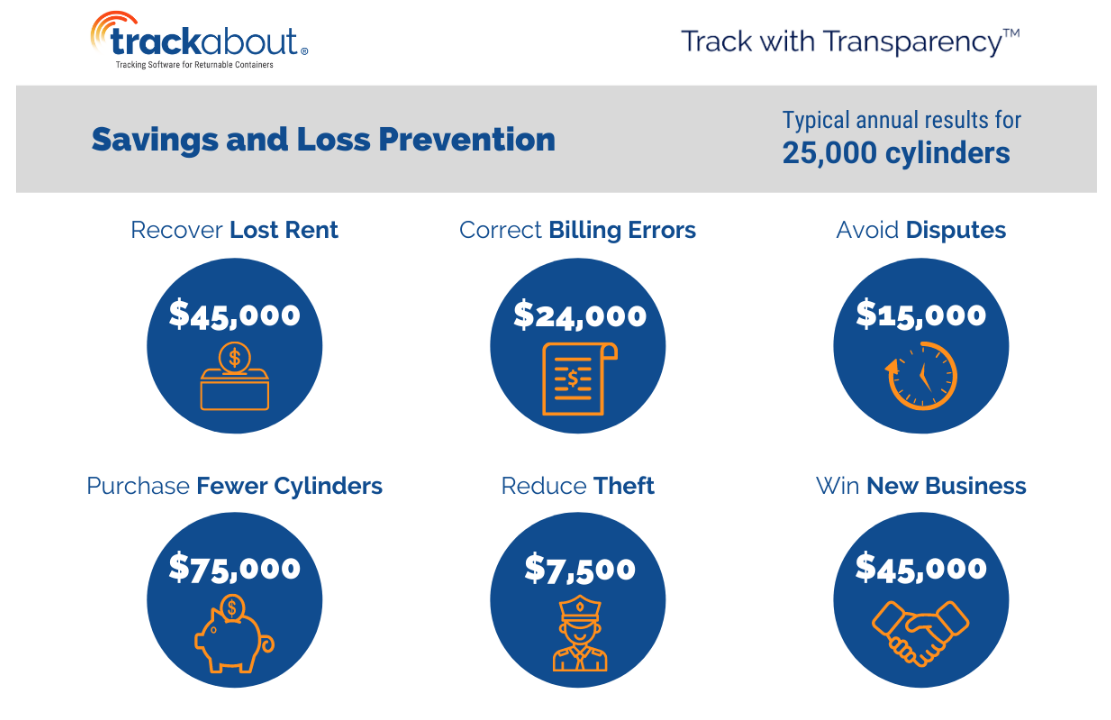 Serialized tracking allows you to harness a wealth of useful data that perhaps you didn't realize you had, or needed.
Having labeled your assets, a simple scan of the barcode, serial number, or QR code instantly provides insight into a cylinder and its contents. Within seconds, you'll know the specifics about what's in the cylinder, when it was shipped and delivered, how long it's been there, who's handled it, maintenance history, and pretty much any other attribute you can think of.
TrackAbout seamlessly integrates into your existing workflows to provide the oversight you need to make better-informed business decisions, ultimately making your life easier and saving you money. Above all, it's intuitive and easy to use. Even if you forget to scan an item as it's transported from one location to another, our intelligent software notices the discrepancy and automatically makes an adjustment rather than it being a problem that escalates.
Asset management software is proven to enhance productivity, offer greater transparency, and increase profitability. There are safety benefits too, with accurate tracking helping to avoid potentially dangerous situations should a shipment be mishandled or end up at the wrong location.
Getting Started with TrackAbout
The implementation process is simple and our team is always on hand for support and with you every step of the way. To ensure a seamless transition, we'd recommend following these five simple steps so you're fully prepared well in advance of your go-live date.
Decide which assets you want to scan and which attributes you're going to capture.

Appoint someone to lead the project and champion the software.

Get full buy-in from the team and train everyone on the new setup and process.

Acquire scanning devices, download our dedicated mobile app and ensure all cylinders are labeled properly.

Liaise with customers and keep them informed throughout.
With over 20 years of experience in asset management, TrackAbout's cloud-based software helps customers protect their assets and help make their business operations run more smoothly.
Ready to start tracking your cylinders? Request a free TrackAbout demo today.