With TrackAbout, users scan barcode labels using a phone or tablet. There is no need to invest in expensive devices that track equipment moving about in the simulation center. You can manage your equipment with TrackAbout in three simple steps:
Label your simulation equipment with barcodes
Collect data by scanning a barcode using a smartphone or tablet
Manage your equipment through a web browser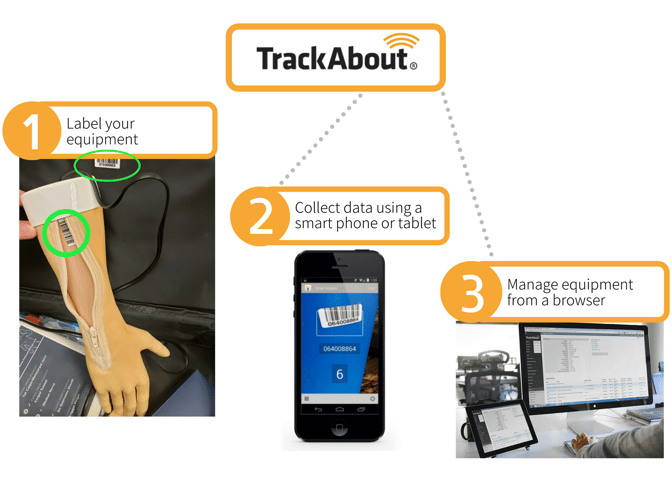 Save time and money spent on pen and paper
Allow staff to easily document equipment usage by scanning barcodes for equipment check-in and check-out. Identify equipment owners by scanning their badge on check-out.

Quickly document equipment maintenance
Create a report of equipment maintenance for an annual review in less than a minute.

Quickly document equipment usage
Pull statistics about how often equipment is used and when the warranty or work orders need to be done.

See a detailed history of all equipment activity
Quickly access the history of simulation equipment. Data is recorded with
GPS coordinates of where scanning took place

Date and timestamp for every action

Scanned equipment barcode ID

User who scanned the barcode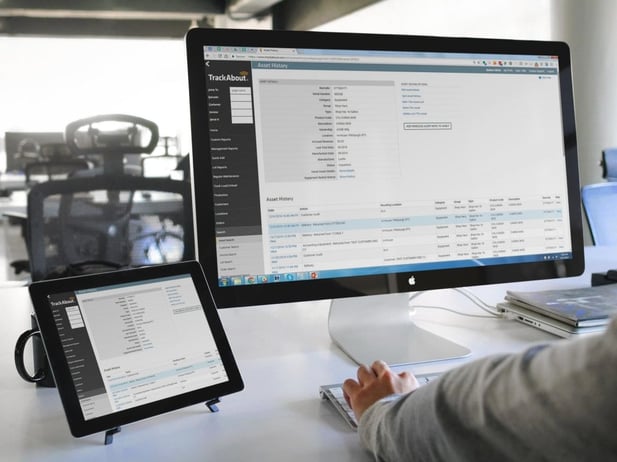 The Case at Northside Hospital Gwinnett

Working closely with Randy Vaughn, the Simulation Center Technician at Northside Hospital Gwinnett, TrackAbout is now being used to keep track of simulation center equipment. Here's what Randy had to say about his experience:
How was your organization tracking assets prior to using TrackAbout?
We were using a book-and-paper method having staff sign the book before taking out equipment.
What key things were important to you in determining the best asset tracking solution?
I wanted it to be user friendly, and able to grow with our expanding needs. I also needed to be able to extract exact information for statistics, and I wanted great Customer Service for any questions that came up.
What benefits have you seen to your business since starting with TrackAbout?
With our equipment constantly coming and going from the Simulation Center this technology makes keeping accountability a piece of cake. People seem to take it more seriously when I scan their badge for an item rather than just signing a piece of paper.
Benefits to the bottom line?
With the tracking system we know who has what equipment and can even track how long they have had it. With the upcoming pictures feature we will even be able to give proof of condition at pick up. So if there are any discrepancies we have the proof to back it up.
From start to finish, what was the best part of the whole process of getting started?
The two-on-one care I received from my TrackAbout project manager and sales rep. If I had any questions or wild ideas they were both on it. Even coming out to sit with me and go over what we needed to make sure I wasn't wasting my time or money on things I didn't need.
What's some advice you'd give to other companies who are starting to implement an asset tracking system?
First get a "questions for my project manager" button to save you from forgetting the random things that come up when you are learning about the system. My TrackAbout project manager went over every question I had until I felt comfortable with it. Second, once you get started tracking things you are going to find many more things you can track so be ready to expand as you go.
Is there anything you'd like to add that we have not discussed?
I can't say enough about my TrackAbout support team. They are still helping me out even after we have the system up and running. I feel like I can always count on them when I forget a step or have a new idea for how I want TrackAbout to help me out.