Get the power of the World's most comprehensive cylinder management system - now integrated with QuickBooks. Gain access to the same full-suite of functionality as the leading companies in the industry.
All three can be used independently or in combination.
You do NOT need to barcode your cylinders for Rental or Proof of Delivery to work.
Example:
Importing Rental Bills
Click the menu item in Quickbooks to import data from TrackAbout. This pulls in all of the monthly rental bills that have been generated, reviewed and approved in TrackAbout.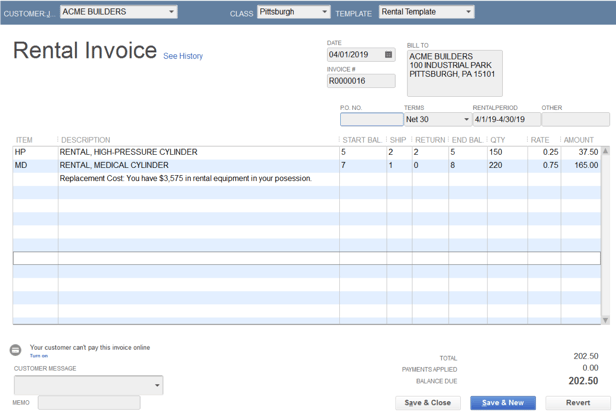 Example:
Rental Invoice in Quickbooks
Integration pulls in invoices from TrackAbout and loads them into the correct rental template in Quickbooks. Import hundreds of monthly cylinder rental invoices in one click.

Integration works with all versions of Quickbooks desktop supported by Quickbooks/Intuit. This includes Pro, Premiere and Enterprise. Quickbooks Online is not supported. Proof of Delivery requires the Quickbooks 'Sales Order' feature which is not supported in Pro. It requires Premier or Enterprise.

Click here to download the QuickBooks Integration Brochure.


More on How These Modules Work with QuickBooks
Cylinder Rental features
Single view of all customer cylinder balances, rental rates, leases and ownerships on one screen
Supports: Daily rental, monthly rental, peak balance rental and demurrage
Set standard rates, bracketed rate tables, customer overrides and ship-to override rates
Optionally set tiered rental rates so that rates automatically adjust when a customer's balance changes
Audit trail of rental rate changes
Supports leases (a pre-paid rental agreement) and lease renewals

Sell new leases from Quickbooks order entry
Integration pushes these new leases to TrackAbout
As leases near expiration, TrackAbout creates a lease renewal and adds to rental invoice

Supports customer ownership agreements
Support flat fees added onto bills
Supports a notice to customers of the total value of assets they are renting
Minimum billable amount. Round up or delete rental invoices below a threshold price.
Quickbooks Rental Integration
TrackAbout staff will help you to load your starting balances into TA
Manage rental rates and lease renewals in TrackAbout
You ship/return cylinders from QB just like you do today (unless you also use our POD or cylinder tracking)
You go into TA at the end of the month and generate your rental invoices
You review the invoices in TA
Click on a menu in Quickbooks to import TrackAbout rental invoices
They become normal Invoices in Quickbooks using a Rental Invoice Template which you can customize
Quickbooks calculates the sales tax
Send out the rental invoices from Quickbooks like you would with any other invoice
A/R collections for invoices done from Quickbooks
Proof of Delivery
POD Features
Replace delivery paperwork with a mobile app
Load orders into mobile devices (smartphone, tablet or rugged device)
Record the cylinders put onto trucks to make sure they satisfy the orders assigned to that truck
Pick an order from the device and see any delivery notes
Record the delivery of hardgoods and cylinders
Record the pickup of empty cylinders
Email the customer a receipt or print a delivery confirmation
Capture GPS and timestamp of each delivery
QuickBooks Proof of Delivery Integration
Create Sales Orders in Quickbooks
Integration pushes these Sales Orders to the TrackAbout app
Fulfill orders with mobile app
Pull cylinder return quantities and any other order changes into Quickbooks and turn the Sales Orders into Invoices