ecoSPIRITS manufactures and supplies the world's first low-carbon, low-waste packaging technology for the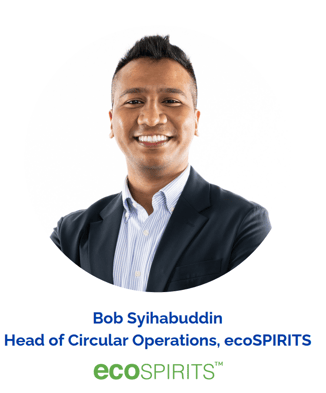 spirits and wine industry. Its aim is to end the reliance on single-use glass bottles and lead the transition to a more sustainable mindset.
Founded in 2018, ecoSPIRITS' innovative ecoTOTE™ containers are now found in bars, restaurants, and hotels across the globe, offering a more environmentally-friendly way of replenishing alcohol supplies while significantly reducing needless waste.
As part of its vision for a greener, circular economy, the business also runs its ecoSPIRITS Forest Program, which sees a new tree planted every time an ecoTOTE completes a cycle through its closed loop system – marking the successful delivery and return of a container.
This entire process is only made possible because TrackAbout helps ecoSPIRITS accurately monitor and manage the location and movement of its assets in real time, says Bob Syihabuddin, the company's Head of Circular Operations.
We ask him about the unique containers and how ecoSPIRITS uses TrackAbout's market-leading asset management software.
Q: Can you tell us about ecoSPIRITS, the technology, and the company's ambitions?
A: ecoSPIRITS primarily deals with reusable alcohol packaging and since we were founded in 2018, we've grown from operating in one city to 22 countries across the world.
In the traditional alcohol distribution business, it's common for lots of single use glass waste to be generated, which is not great for the environment.
When you look at a hotel, bar, or restaurant and how they consume alcohol, a bottle of spirits can easily be depleted in just 20 minutes.
Bear in mind that the bottle's already gone through a very long journey. The bottle itself might be made in Italy and then sent to the UK where the alcohol is produced. The bottles are filled and then shipped halfway across the world, where they end up in a warehouse. These are then transported to a bar where a bottle gets used for maybe 20 minutes before it's disposed of.
It's a very wasteful activity – and inherently, the bottle is still completely fine, but it gets thrown away because the liquid inside is gone.
This is where ecoSPIRITS comes in; we want to change attitudes and make those containers useful again.
We provide spirits in our proprietary reusable bulk packaging, called the ecoTOTE – a large glass bottle encased within a robust plastic shell made from high density polyethylene (HDPE) – which is delivered directly to those venues. The ecoTOTE can hold the equivalent of six standard 750ml spirits bottles. Our customers can then refill their empty bottles from our ecoTOTE and reuse them over and over again, almost indefinitely.
Ultimately, what we're attempting to achieve is a closed loop distribution system where the ecoTOTEs eventually come back to us after use. That's why the tracking of these assets is so important – and why we approached TrackAbout. We need to track product quality, the lot numbers, and when and by whom they were filled, but we also need to make sure they come back.
We were tracking about 5,000 ecoTOTEs when we started using TrackAbout in 2020. Now, we're monitoring more than 35,000!
Q: What made you decide you needed a dedicated tracking system?
A: The real turning point for us was when we started having issues with the Excel ledger system we were using. The problems started when the assets started coming back and were getting refilled.
We were trying to keep track of how many times they were getting filled, but it started getting really messy. It became clear that this system would maybe work for 1,000 units, but it was definitely not going to work when we scaled up. That's when we started looking for another solution.
In honesty, we looked at a lot of different providers, checking how compatible they were with our asset identification, the cost, scalability, API integration, the support that was offered, and the complexity of their systems.
We didn't want anything that was too simple. Some products used just a few buttons: deliver, collect, clean, wash, and send out. While this would be perfect for some users, it was not ideal for us if we wanted to grow.
With TrackAbout, we place a sticker on each asset, which is then scanned to capture the information we need: the serial number; when the ecoTOTE was processed – or cleaned and filled; when it moves; and the venue it gets delivered to.
Using this software allowed us to uncover the quirky behavior of some of our customers who had a very specific pattern of keeping hold of our assets. With TrackAbout, we could search for those that were overdue and immediately see all the assets and their locations.
Q: What are some of the benefits of standout features in TrackAbout?
A: The pricing model is great. It scales with our business, is flexible, and can accommodate all of our needs.
For example, we wanted to carry out a lot recall exercise, but there was no way we could have done this on our old system.
With TrackAbout, you press a couple of keys and within a few seconds we know exactly where all our ecoTOTEs are – whether it's at a customer's location or back with us to be refilled. It's definitely a huge selling point for us, especially as we're dealing with products meant for human consumption. Lot tracking, the ability to have quick lot recall, and lot traceability are all things that are very important to businesses in the spirits and wine industry.
Another one of the big reasons we decided to go for TrackAbout was because of its API capabilities. We have built a system called CircularONE™ – a secure software platform that allows ecoSPIRITS to constantly collect and send performance and supply chain data to each of our partner companies. CircularONE is now closely integrated with TrackAbout and constantly syncing.
We are glad we had the foresight in 2020 to make sure we picked a company that had such good API capabilities and could grow with us in the future. Some of the others we considered were not able to offer this.
About ecoSPIRITS
ecoSPIRITS is a circular economy technology company that has developed the world's first closed loop packaging system for premium spirits and wine. Our patent-pending system nearly eliminates all packaging waste in the supply chain. By dramatically reducing packaging and transport, ecoSPIRITS provides both a powerful cost advantage and a transformative carbon footprint reduction. Founded in Singapore in 2018, the ecoSPIRITS technology is now available in more than 22 countries across Asia Pacific, Europe and the Americas. Almost 2,000 leading bars, restaurants, hotels and retailers have adopted the technology, including Michelin-starred restaurants, World's 50 Best and Asia's 50 Best bars and iconic hotels. ecoSPIRITS is now rapidly building a global network of closed loop service, with coverage to grow to 27 countries worldwide by late 2023. Together with our brand partners, importers, distributors, wholesalers, venues, and retailers, we are already making a difference. Each year, ecoSPIRITS and our partners are eliminating hundreds of tons of single use glass waste, planting tens of thousands of trees, and inspiring others to change.