About Bienvivir All-Inclusive Senior Health
Bienvivir All-Inclusive Senior Health is a community-based healthcare program headquartered in El Paso, TX. It has almost 500 employees, operates three facilities in the area, and is soon to open another in nearby San Antonio, providing support to the elderly through the National Program for All-Inclusive Care for the Elderly (PACE). Participants enrolling in the government-backed program receive a range of services from primary care doctors and prescription drugs to therapy and transportation.
Bienvivir provides specialized medical equipment and supplies that people depend upon on a day-to-day basis. Accuracy, transparency, and the right support are essential for deliveries – ensuring the right supplies get delivered to the right people, at the right times. Most items are also extremely expensive and difficult to replace if they go astray.
"We recycle all our equipment – from hospital beds to oxygen machines and wheelchairs," says Jesus Macias, Durable Medical Equipment Supervisor at Bienvivir. "When they're returned to us, we have a maintenance program where we assess any damage. We need to know the history of the equipment, its age, and how many times we have repaired it, so we can determine whether it's worth repairing again or disposing of."
The business had been relying on manual, paper-based processes to ensure stock was coming back into its inventory, but an audit several years ago flagged up flaws with hard-to-read paperwork and illegible signatures. "We then decided we needed something to help us scan and track everything," he says.
Bienvivir has now been a TrackAbout customer for the past 15 years, using the software to track and control the durable medical equipment, dietary supplements, and incontinence supplies it sends out.
However, the onset of the pandemic made the process much more difficult. Social distancing restrictions limited direct contact with people – particularly the elderly and those deemed at high risk. It was almost impossible to get physical signatures when items were delivered and extremely difficult to keep track of equipment, he adds. It was therefore common to leave items on a doorstep or in a designated safe place for them to retrieve later – putting items at risk of loss, damage, or theft.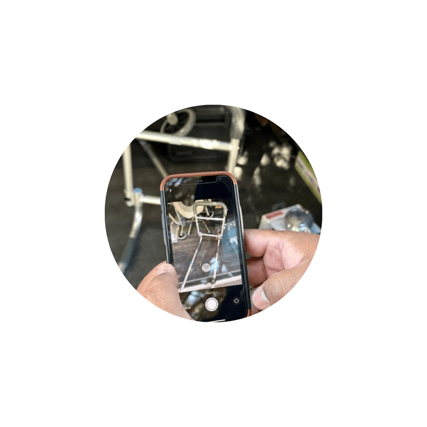 Solution
The launch of TrackAbout's Photo Feature was developed specifically for this type of scenario – allowing users to capture visual proof that a delivery was made or why it couldn't be.
As an existing customer, Bienvivir was approached about the new module and offered a six-month trial.
The Photo Feature provided a robust audit trail that protected assets and helped prevent relationships from souring if there were a problem or dispute over a delivery, he says.
"We used it and immediately saw the benefits," saysMacias. "Because of COVID, we were having to leave items outside participants' homes. The Photo Feature allowed us to have some kind of documentation to show that we'd left it safely for them without needing a physical signature."
"If a participant ever came back to us and had a grievance or said they'd never received it, we could use the module to show the time and date it was delivered, as well as a picture of where it was left. It gave everyone complete peace of mind."
The effects of the Photo Feature were immediately felt by Bienvivir and made it far easier to operate during a very difficult time.
Orders generated via the electronic medical record would be viewed by technicians who then arranged an appointment and prepared the equipment for delivery. Upon arrival at the address, the item could be left safely in a pre-arranged place, and a photo taken as proof of delivery. The images were instantly uploaded and logged on Bienvivir's system, providing a comprehensive audit trail.
Macias says the feedback from the technicians using the module was extremely positive. They found the module easy to use and quickly adapted to include an additional stage to their workflow. They didn't have to be too tech savvy, he adds, simply needing to understand how to use the camera on their mobile phone alongside the dedicated app.
"For us, I think it's a very useful tool. All our employees now use it," he says. "The more information we have, the more we can defend ourselves if there's ever something questioned about the delivery. In my opinion, it's perfect for anyone who wants to better manage their inventories. The benefits definitely outweigh not having it."