TrackAbout regularly puts out new features and improves existing ones. Below are some of the changes in the September's software release:
Smartphone - Mobile Action for "Returns Only"
Web Site: Better on Desktop or Mobile
Additional changes for Mobile Ordering
Email Updates to Mobile Order Users
Smartphone: Return-Only or Pickup-Only Action
If you have questions about how you can start using any of these new features, please reach out to our Support team at support@trackabout.com.
Web Site: Better on Desktop or Mobile
You can now show and hide the left menu. This provides more screen room for viewing your data.
Use the icons in the upper left corner of the screen to show and hide the menu. You can also press the "m" hotkey to show/hide the menu. (The hotkey only works when the cursor is NOT in a text field.)
On tablets and smartphones, the left menu will be collapsed or hidden by default.
Using the Jump To ("J") or other search box hotkeys will auto-expand the left menu.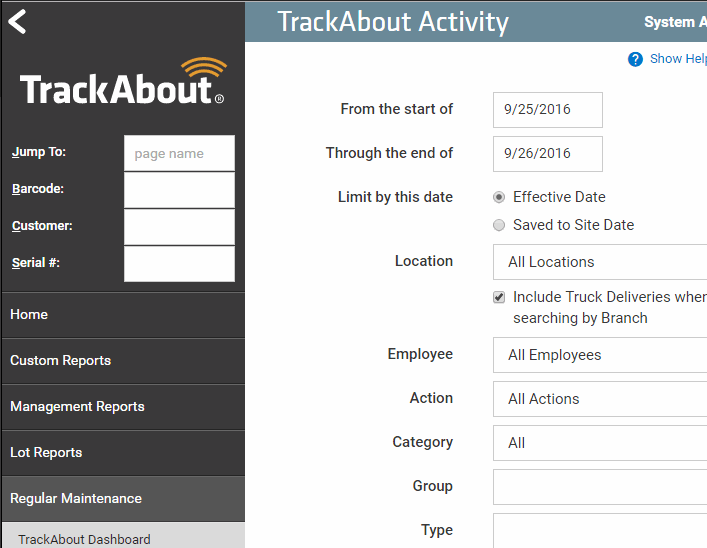 Additional changes for Mobile Ordering
Back Orders
You can now create back orders when using the Order Planning process. When an order cannot be fulfilled in its entirety, select the order and click the "Create Back Order" button.
You will be shown a copy of the original order. Line items and their quantities can be changed as needed. If there is a Purchase Order Number, it will be copied to the new back order.
When finished, click on "Create Order" and TrackAbout will assign and create a new back order. The new order created does not reference the original order.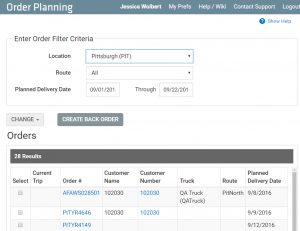 Email Updates to Mobile Order Users
Orders created using the smartphone device are really requests for an order to be fulfilled. It is up to the inventory manager to decide when and how an order can be fulfilled. It might be that an order can only be partially fulfilled, or that the delivery date must change. TrackAbout added this so that if one of these key order attributes changes, the user placing the order knows it happens and can plan accordingly.
Now, when there have been changes to the delivery date, requested products, or order number, the user that originally requested the order will be sent an email detailing the changes.
Smartphone: Return-Only or Pickup-Only Action
For some TrackAbout customers, deliveries and returns are performed by different people. We have added a new Return Only/Pickup action available on Smartphone.
You can create a new Mobile Role that only permits a driver to perform Returns/Pickups. This new action only allows returns -- there is no option to enter delivered assets.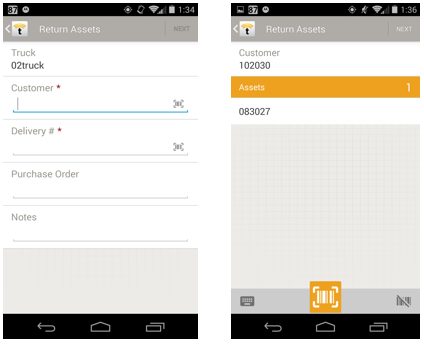 To enable this action, please contact our support team.