TrackAbout is always putting out new features and improving existing ones. Below, you'll find information about some of the recent changes coming out of TrackAbout.
If you have questions about how you can start using any of these new features please reach out to our Support team at support@trackabout.com .
Features and Updates
Editing Product Codes from the website
We're giving your local TrackAbout administrators more power to control Product Codes. Now, users can be granted permission to edit and update Product Code names right from the website. Change requests to the TrackAbout Support team are no longer needed.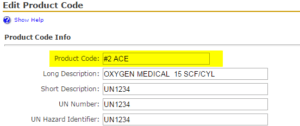 This feature is already available on the website for any client subscribing to TrackAbout's Core Tracking module.
Mark Assets as Lost
TrackAbout has long provided an option to mark assets as "Lost" during the Customer Audit process and when editing individual assets. Now, website users can mark groups of assets lost, saving time and energy using the Mark Assets Lost page.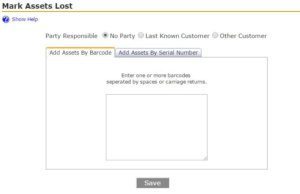 Add your assets by barcode/tag or serial number and tell the system who should be responsible for the lost assets. Once the information is saved to the system, the Lost Assets will be removed from internal inventories and customer balances. Lost assets may turn up in the future, and they'll be added back into inventory automatically.
This feature is already available on the website for any client subscribing to TrackAbout's Core Tracking module.
Sell and Scrap assets from your handheld
Do you have assets in your inventory you no longer want to track because either they've been sold or because it's time to put them out to pasture?
Operators can now sell or scrap assets right from the handheld. This feature saves time from having to retire assets from the website. Do it on the spot in real time and keep inventories more up to date.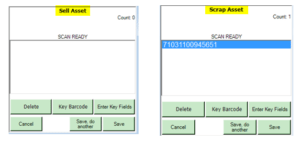 In addition, if you need an approval process for Selling or Scrapping asset, TrackAbout provides a website approval process to pair with the handheld functionality.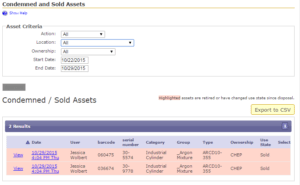 This feature can be set up for use on TrackAbout's Mobile application for any client subscribing to TrackAbout's Core Tracking module.
Rental - New Flat Fee
TrackAbout supports several kinds of Flat Fees. These are fees that can be added on to your regular Rental Invoices in addition to or instead of regularly accrued rental charges. We now support a new flat fee called "Per Asset Rent Day of Type".
This Flat Fee is applied to billed assets of a specific Rental Class or Asset Type. The amount of the Flat Fee is multiplied by the number of days of rent for the asset.
So for instance, consider a "Per Asset Rent Day of Type" flat fee set up for Large Wheelchairs at $.05 per day and a customer has a large Wheelchair on their balance for 10 days,
10 Days * $.05 = $.50
A flat fee of $.50 will be added to the rental invoice in addition to other rental accrued for the month. This flat fee will be itemized on the rental invoice in the name you give it. This provide you with more flexibility in what you charge your customers while giving them more detailed information about what is included in their bill.
From the TrackAbout Flat Fees page select to create a new Flat Fee and choose Type "Per Asset Rent Day of Type".
This new Flat Fee is available at no additional charge for any client subscribing to TrackAbout's Rental Module.
New in Smartphone!
TrackAbout is making big advances in TrackAbout's Smartphone application available for both Android and iOS.
Now operators can conduct basic Filling operations and Vendor Receive (Third Party Filling) in addition to Registration and Delivery right from their smartphones.

In addition, TrackAbout Smartphone users will now have
Custom font sizes: Normal, Large, and Extra Large
Improved Record Saving. This means fewer sync problems, and better handling of network issues
Upgrade notifications - users will be alerted if they are operating an old version of the application
Using TrackAbout's Smartphone functionality provides an economic alternative to investing in more expensive rugged handheld devices.
These features are available to TrackAbout clients subscribing to our Smartphone application and Core Tracking module.