Note: Naming for Release Notes is being updated to reflect the month in which the release is available to customers. This posting will cover May, June and July 2017.
TrackAbout regularly puts out new features and improves existing ones. Below are some of the changes in the most current software release:
Fix - Can't log in to TrackAbout after closing browser without logging out

Feature -

Ignore Exchange Types when processing Discovery Period Adjustments

Fix - Disband containers when the contents are delivered, even when the container is not

Feature –

New Lease creation REST API

Fix - Product Codes not showing up in product code search

Fix - Javascript error on Asset Family Collection Reclassification Groups page

Fix - Issue with Return Lines showing during Picking

Feature -

Add Asset Count in Third Party Fill on TA6

Fix -

Lost Assets Found Report Not Running

Fix - Unregistered assets added to pack cause sync problems

Upcoming Smartphone Feature - Smartphone Support for Barcodes with dashes

Upcoming Smartphone Feature - Use State Term Lookup
Upcoming Smartphone Feature - Follow On Tracking users can now access Asset Search from main Smartphone menu
If you have questions about how you can start using any of these new features, please reach out to our Support team at support@trackabout.com.
Fix - Couldn't log into TrackAbout after closing browser without logging out
Previously, when closing your browser without logging out of your TrackAbout website, you may have been unable to log back into TrackAbout. Now, even if you forget to logout, you will be able to get back in when you open a new browser.
Feature - Ignore Exchange Types when processing Discovery Period Adjustments
Over time, Not Scanned balances may accumulate and languish on customer accounts if they are not manually addressed and removed. Discovery Period allows our clients to give their customers the benefit of the doubt when returning cylinders, but doesn't allow their balances to go down if the cylinder isn't later identified as one on balance. Clients can use this to prevent scenarios where a customer will take a cylinder from another customer, scrape off the barcode and return it. For more information on how Discovery Period adjustments work, please contact TrackAbout Support for a demonstration.
TrackAbout was using all products when processing Discovery Period adjustments, including Exchange Type assets, which is not needed. Now, TrackAbout will ignore Exchange Type assets when running Discovery Period.
Fix - During palletized delivery, containers were not being disband correctly
When using Palletization, customers can choose to deliver or transfer a container/pallet of assets with one scan. When pulling one or more assets from a pallet during delivery or transfer and choosing not to "drop" the pallet at a customer site, TrackAbout was not breaking the connection between the pallet and assets. As a result, the assets appear to remain in the container, even when they are physically at a customer site.
Now, when assets are delivered, and the pallet is kept at the facility and not left, the assets are assigned to the customer or branch, and the pallet stays either on the truck or at the facility where the assets were delivered from.
For more information on using the Palletization module, please contact support at support@trackabout.com.
Feature - New Lease creation REST API
TrackAbout has created a new REST API so that customers using our Rental module can create new leases in their ERP system and have them seamlessly integrate with and update TrackAbout.
For more information on TrackAbout public APIs, please see our API documentation or contact the TrackAbout Support team.
Fix - Product Codes were not showing up in product code search
Now, when searching for an exact product code using the magnifying glass (for example, on the Current Inventory page), the desired product code result is always displayed and can be selected.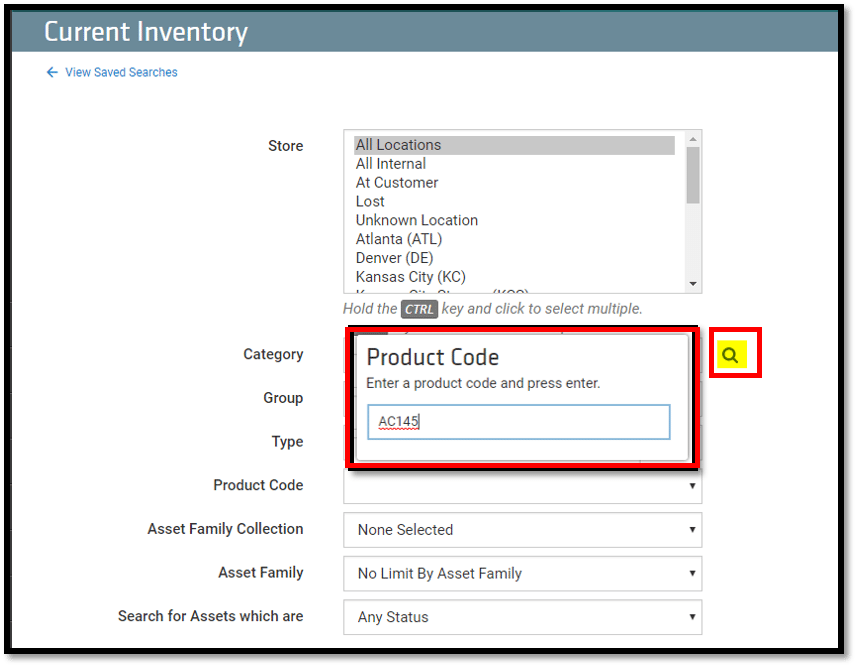 Fix - Javascript error on Asset Family Collection Reclassification Groups page
Reclassification Groups are used in TrackAbout to group collections of products together so that business rules can be applied during service changes on assets. For example, if a user was trying to change the service of an Acetylene cylinder to a Nitrogen cylinder, this would not be allowed. If the user was instead attempting to change a Nitrogen cylinder into an Argon cylinder, this would pass validation.
The List Asset Family Collection Reclassification Groups page was not listing the asset family collections on the page and this has now been addressed.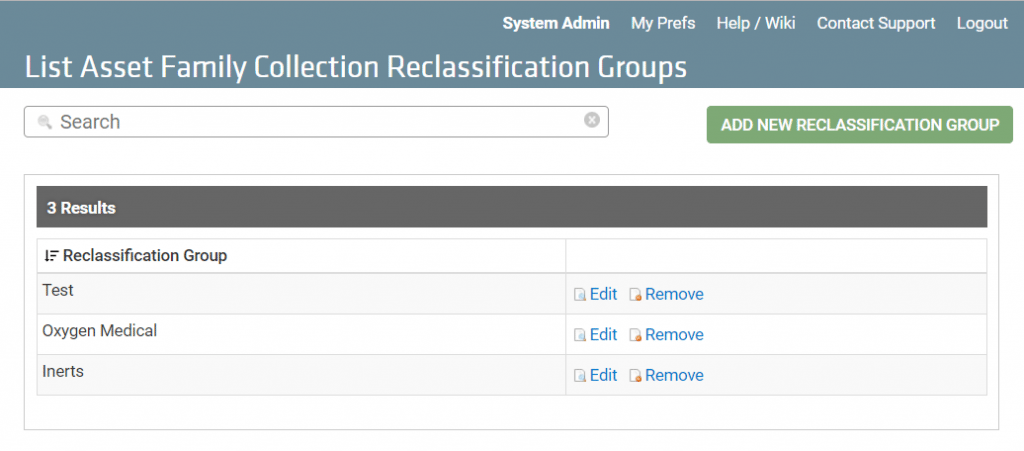 Fix - Issue with Return Lines showing during Picking
Using TrackAbout's Sort Trip / Picking action, loaders can see exactly what needs to be loaded on a truck going out for delivery that day, eliminating the need for a loadout sheet.
The Picking action now only shows products that are to be loaded on the truck for delivery, and returns are not shown.
TrackAbout's Picking feature is part of our Proof of Delivery module. More information about this feature is located on the TrackAbout Wiki under Picking.
Add Asset Count in Third Party Fill on TA6
TrackAbout has added a counter in the upper right hand corner of the Receive from Vendor action on our TAMobile 6 action. This counter will increase or decrease based on the number of assets scanned during the action.
Fix - Lost Assets Found Report Not Running
The Lost Assets Found report, which allows users to see assets that have been "found" over a specified period of time, will show you where the assets were found, and also tell you which customer was originally responsible for losing the asset, when applicable.
This report was not running as expected, and is now fixed.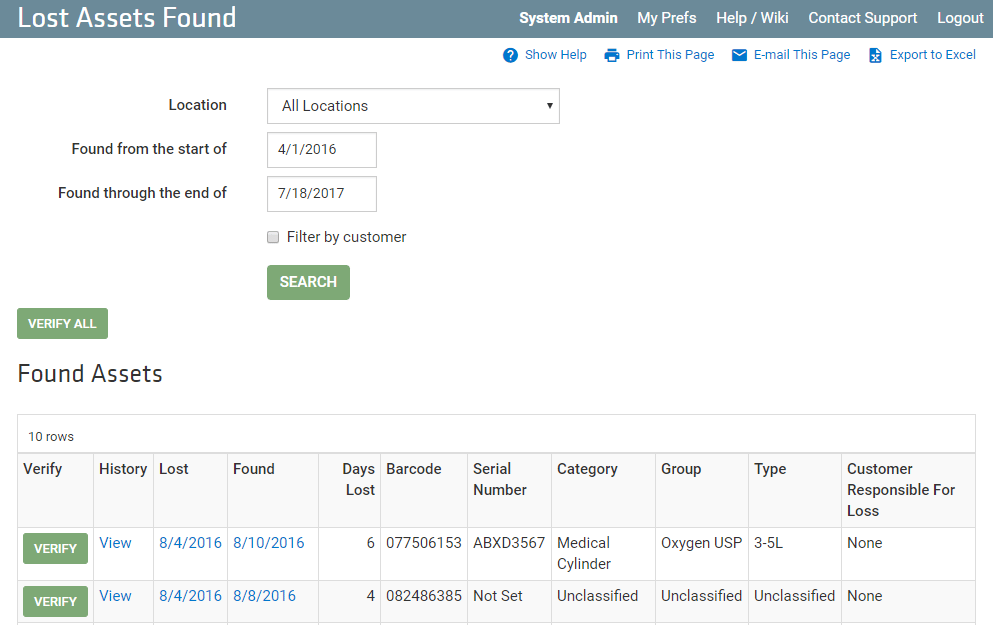 Read the TrackAbout Wiki section on Lost Assets for more information about this report.
Fix - Unregistered assets added to pack cause sync problems
When a user unknowingly added unregistered assets to a pack using the Make Pack action, the pack was not being created in TrackAbout and created a sync problem. Users can now always create a pack using the Make Pack action, and the system can handle unregistered assets.
TrackAbout's Smartphone releases do not always coincide with our regular release cycles due to the fact that our changes must be submitted and approved by both the Apple App Store and Google Play Store, but we'd like to share with you our upcoming features that will be available soon.
Upcoming Smartphone Feature - Support barcodes with dashes on smartphone
TrackAbout can now support barcodes with dashes for use in our iOS and Android Smartphone applications.
Upcoming Smartphone Feature - Use State Term Lookup
TrackAbout has standard "use states" that help define the status of an asset. For example, "Ready for Use" often indicates that an asset is empty or clean, whereby a use state of "In Use" can mean that an asset is full and cannot be used to fulfill another work order.
Our customers may choose to customize their use states to better fit their business: using "Full" instead of "In Use", and so on. They may also choose to add additional use states.
For use states that have been customized in our customers' environments, the Smartphone application should reflect the customized use states, and now does, instead of using the default names given by TrackAbout.
Upcoming Smartphone Feature - Follow On Tracking users can now access Asset Search from main Smartphone menu
TrackAbout's Follow-On Tracking users will be able to use the Wireless Lookup action from the menu of the application, rather than having to pull the hamburger/slide out menu out from the side to perform an asset search.