TrackAbout regularly puts out new features and improves existing ones. Highlights include:
New: POD with flat file integration
Changes to Order Planning
Changes to Customer Audit Reconciliation
New Hardware Support: Zebra 520ZQ for TAM6
If you have questions about how you can start using any of these new features please reach out to our Support team at support@trackabout.com.
TAM7 Palletization
A version of TrackAbout's Palletization module is now available on TAM7 (Android and iOS).. Palletization refers to temporarily grouping together assets for the purpose of filling, delivery, or maintenance activities.
When scanning a pallet in TAM7, customers will notice a container icon will be displayed, denoting that a pallet has been scanned. The assets will also be shown below when the icon is tapped.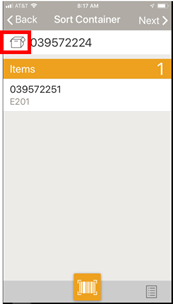 The following TAM7 actions support Palletization:
Registration - Customers can register pallets through the Add New Container action.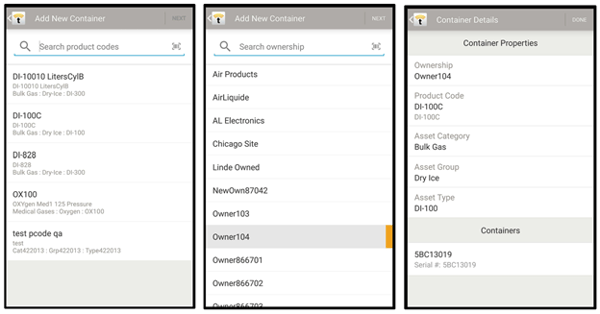 Build Pallet actions - TrackAbout has four separate "build pallet" actions that allow customers to assign assets to a pallet for a variety of purposes.

Sort for Filling - Add assets to a pallet for the purpose of later being filled together.
Sort for Interbranch Transfer - Add assets to a pallet for the purpose of later being transferred together to another branch location. Assets prepped and assigned for transfer can be both either full, empty or a mixture of full and empty assets. This is new functionality in TAM7 available only in TAM7.
Sort for Delivery - Add assets to a pallet for the purpose of later being delivered together to an external customer. Assets prepped and assigned for delivery can be either full, empty, or a mixture of full and empty assets. This is new functionality available only in TAM7.
Sort for Maintenance

- Add assets to a pallet that will later be transferred to the maintenance area.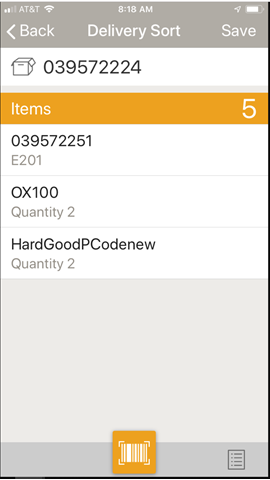 Generic Action Support - For customers using

Dynamic Workflows

to build custom actions in TAM7. Customers may use custom actions to move, assign use states, or record activities on palletized assets.
This functionality is available to clients subscribed to TAM7 and TrackAbout Palletization modules. If you would like more information on these features, please contact TrackAbout Support at support@trackabout.com or your TrackAbout Sales Representative.
New TrackAbout Certified Devices
Zebra ZQ520
TrackAbout has certified the Zebra ZQ520 for TAM6. The ZQ520 is a 4" thermal receipt printer that can be connected via bluetooth to your mobile devices. Support on TAM7 to follow later this year.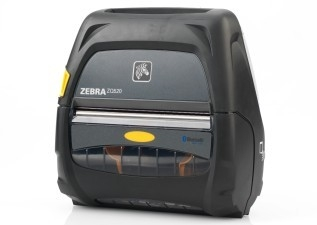 If you'd like to learn more about TrackAbout certified devices, please visit our wiki for additional information.
New Feature: POD with Flat File Integration
The new configuration for the Proof of Delivery (POD) module provides a solution for TrackAbout customers with limited options for integration. Users can now upload a flat file of orders into a new TrackAbout webpage called Import Order File. We no longer require automated integration with your Accounting System to get pending orders into TrackAbout.
So, now there are three options to load orders so more customers can use POD:
Import Order File - to load pending orders via flat file (excel or txt file)
FTP - Upload a file of orders onto a TrackAbout-hosted FTP site and then TrackAbout will automatically process this file.
Add New Order page - Manually add individual orders through the Add New Order page
POD allows for pending orders to be loaded directly into your TrackAbout system. Those orders will then be sent to mobile devices for Picking and Customer Deliveries.
Personnel conducting staging for deliveries (sometimes referred to as Picking), will be able to see what products and quantities are needed to fulfill customer deliveries.
Drivers will see a detailed view of what should be delivered and picked up according to each order. Drivers can also print proof of deliveries at the customer site, instead of having to bring printed paperwork.
TrackAbout's POD module is available on both our TAM6 and TAM7 platforms. If you are interested in learning more about loading your orders into TrackAbout using flat file integration, please contact TrackAbout Support at support@trackabout.com.
Updated Feature: Changes to Order Planning
The Order Planning page works in conjunction with Proof of Delivery (POD) to schedule and route trucks for delivery. Customers without an external routing system can exclusively use TrackAbout to create trips for their delivery vehicles. For customers with an external routing system, once orders and their trips are loaded into TrackAbout (either through integration or manually), changes can be made to trips using the Order Planning page.
In this release, TrackAbout has made enhancements to Order Planning page functionality:
Search by specific Invoice Number
Search by Trip Number to find associated orders
By default, TrackAbout will no longer show orders if they've already been delivered. Check the Include Delivered Orders filter to show delivered orders in the results
Order Planning results now include columns for Planned Delivery and Return Quantities. These columns provide totals for all lines on the order, including hard goods. This allows for better truck space planning.
Click on the Order in Order Planning results to see a detailed view. Tap the arrow beside the order, to open the Order in a new tab.
Using the CHANGE button:

Users can now change a route on orders without having to first change the location. It can be done from the CHANGE button popout:
Highlighted view of new changes: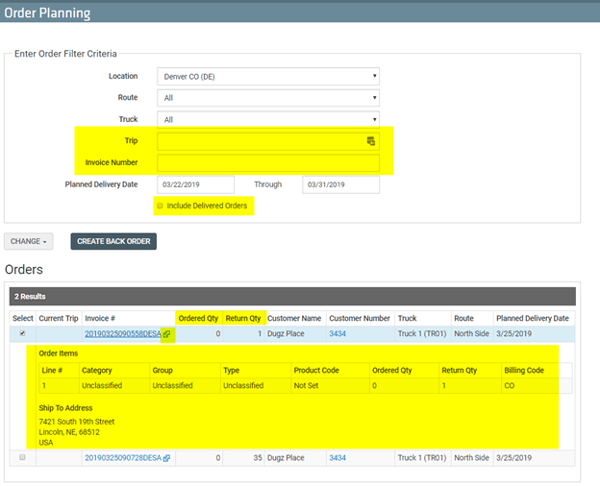 Updated Feature: Changes to Customer Audit Reconciliation
The TrackAbout Customer Audit Reconciliation process is an important way for clients to reconcile a customer's balance, ensuring all assets onsite are accounted for. Customer Audit functionality is available to all TrackAbout clients.
TrackAbout has made significant changes to the Customer Audit Reconciliation Summary. There are new columns, and increased options for viewing/hiding audit details.
New Columns
Surprise Finds from Different Customer - Identifies assets scanned during the audit that TrackAbout last knew to be on a different account.
Not Founds Left On Balance - These are assets that the reconciler chose to leave on the customer's balance even though they were not scanned during the audit
Not Founds Taken Off Balance - These are assets taken off of the customer's balance as a result of the audit.
Expandable Details
First Level - provides a summary at the asset classification level
Second Level - provides a summary for the total of Uniques and Not Scanned assets
Third level - provides specific unique asset information in the grid.
There is also an expand/collapse link in the header for expanding/collapsing everything.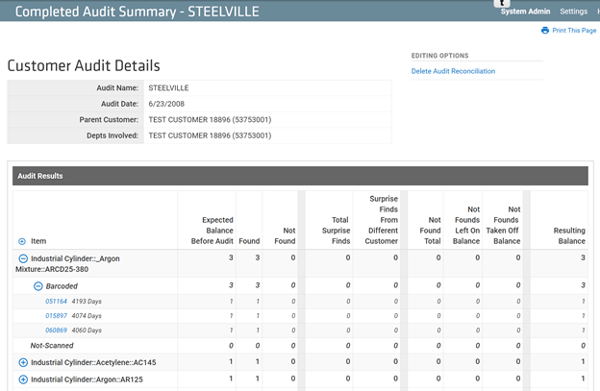 These changes are applicable to all TrackAbout clients.
Updated Feature: Customized Current Inventory Results include Custom Asset Information
The TrackAbout Current Inventory page is often used daily to report on assets' statuses, location, and usage. This report can now be customized to include any Custom Asset Information you capture about your assets.
At the bottom of the Current Inventory page, click the Customize button. This will allow you to create a Saved Search and return to your search whenever you need it without having to reset all of the filters.
During the Customize process you'll now have the option to include your custom data in the results. For example, if you collect Manufacture Date, you'll be able to include that in the report results and drag the columns to order them how you'd like them to display. Here's a short video to show you how it works.
For more information on how to use customized saved searches to create your own queries, please visit: https://meta.trackabout.com/w/index.php?title=Current_Inventory.
These changes are applicable to all TrackAbout clients.
Updated Feature: Auto-populate trip number on the Add New Order page
For those customers that currently use TrackAbout to create and plan orders for delivery, we have now updated the Add New Order page to auto-populate a trip number if our clients so choose. By auto-creating a trip number at the time of order entry, this means that clients that have single customer deliveries don't have to visit the Order Planning page to create a trip for a single order.
To activate this feature, please contact TrackAbout Support at support@trackabout.com.
New Feature: Track all logins by platform and lock users who have not accessed the system in 90 days
TrackAbout now keeps a log of the last login date for TAM7 and TAM6 users as well as for website users.
To reduce the possibility of an attack, if a user has not authenticated in via any channel (website, mobile device, or API) in the last 90 days, the user is locked and must go through password recovery to regain access.
The default lockout days is 90, but is configurable at our clients' request.
This change is applicable for all TrackAbout clients.