TrackAbout regularly puts out new features and improves existing ones. Below are some of the changes in the next scheduled software release.
If you have questions about how you can start using any of these new features, please reach out to our Support team at support@trackabout.com.
Extreme Makeover - TrackAbout Edition
By now you may have heard TrackAbout is getting ready to go through a major facelift. For the past two months, TrackAbout has been working hard on refreshing our web application user interface.
If you are a TrackAbout administrator and did not receive the TrackAbout Facelift email, please contact the Support Team and ask for the mailer.
The way the website works will stay the same. The navigation is the same and the functions of most pages will stay the same. The changes are mostly stylistic to give the site a fresher, more up to date look and feel.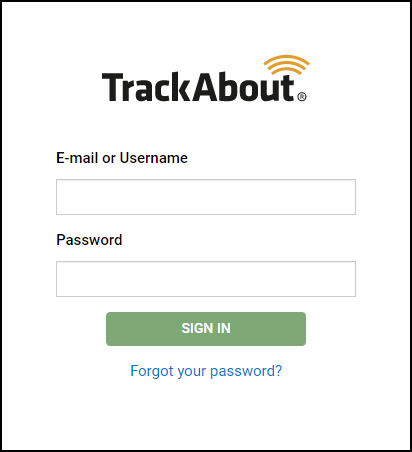 Here's a brief before/after album to give you an idea what things will look like.
The TrackAbout application website is HUGE, with over 700 pages in the site. We've done our best to test the site, but we're sure there are going to be some issues and we expect to get some phone calls and support tickets.
TrackAbout is committed to fixing problems resulting from these changes as quickly as we can. Please do not hesitate to contact us at support@trackabout.com if you find your work impacted in any way.
New API - Updating Product Codes in Batches
TrackAbout provides several convenient API endpoints to transfer information between TrackAbout and your accounting system. We have existing endpoints which allows you to create and update one product code at at time. However, this new endpoint allows you to send information about new and existing product codes from your accounting system to TrackAbout in batches of up to 500 product codes at a time.
This new endpoint will help you save time, and allow your integration to work more efficiently by easily creating and updating information in bulk. Kinds of product code information include
Product Code Description
Manifest information
Volume and Lot number configurations
Refer to Updating Product Codes for information about this specific API endpoint and to the API documentation for more information about how all of our APIs work.
Bulk Load Ownerships
This brand new page, Bulk Load Ownerships, allows customers to bulk load information about the Ownerships they will use in their TrackAbout system. Ownership is a key piece of information collected for every tracked asset. Establishing Ownerships is mainly completed during a new TrackAbout customer's implementation process.
The page provides a step by step process for downloading a convenient Excel template to use for your data and uploading the file. Now, you can load all the Ownerships in one fell swoop!
Fix - Include Physical Inventory results in Lost Assets report
When reconciling a Physical Inventory (used for Internal Audits and Cycle Counts), TrackAbout provides a way to mark assets as "lost" if they weren't found during the Physical Inventory. (Physical Inventories are super helpful! Read more about those here). However, we found those assets marked lost as a result of the Physical Inventory were not being included in the results generated through the Lost Assets report. Oops!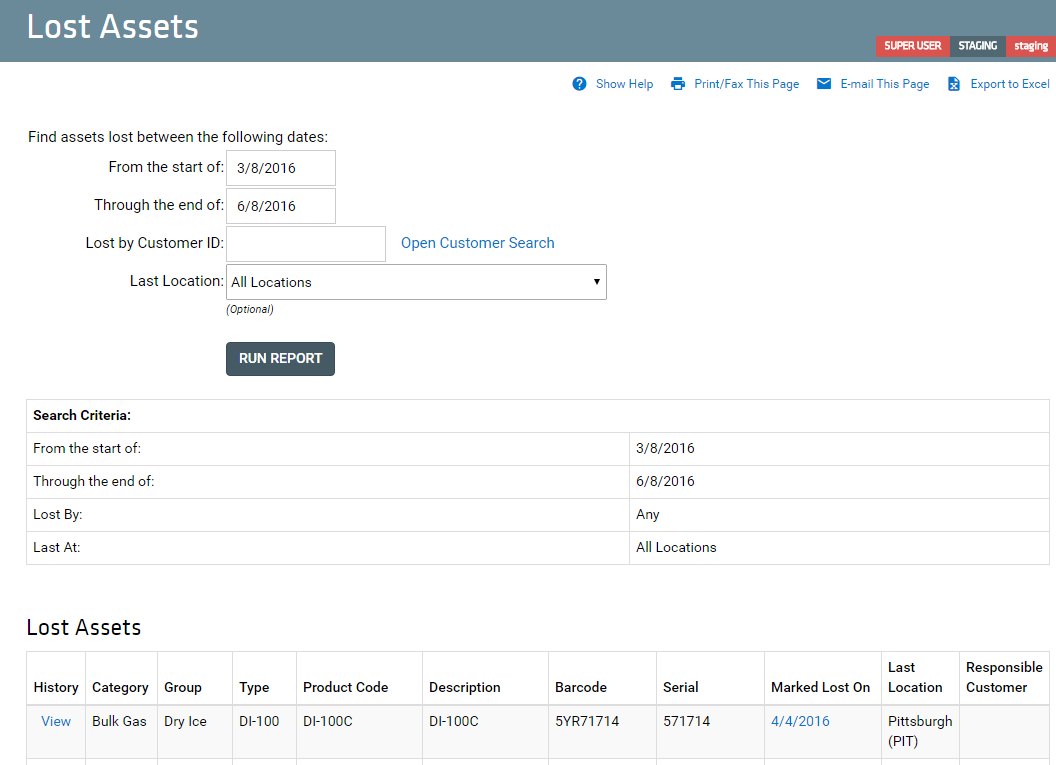 This issue has been corrected and all assets known to be lost will now appear when generating your report. Refer to our Lost Assets page on the TrackAbout Wiki for more information about how to manage Lost Assets.
Speedier Verified Orders API
TrackAbout provides a means for reviewing a verifying information associated with deliveries. We call this the Verification process. Last month we told you about the improvements we made to the Verification tools in TrackAbout. Well this month, we've made some improvements to get those verified orders into your accounting system quicker.
Some clients were finding that when they called this endpoint it took a longer than expected to get a response. In some cases, the call would time out before all of the information was received. We've improved how this endpoint works and have decreased the response time for providing information.
Refer to Verified Orders for information about this specific API endpoint and to the API documentation for more information about how all of our APIs work.
Fix to the Action Schedule: Assets Coming Due Report
For TrackAbout customers subscribing to the Maintenance Tracking module, we've corrected an issue with the Action Schedule: Assets Coming Due page. This is a handy tool to alert you as to when assets are coming due for particular maintenance actions. It looks like we were getting a bit overzealous and including product codes that did not need alerting.
Here's what the report looks like: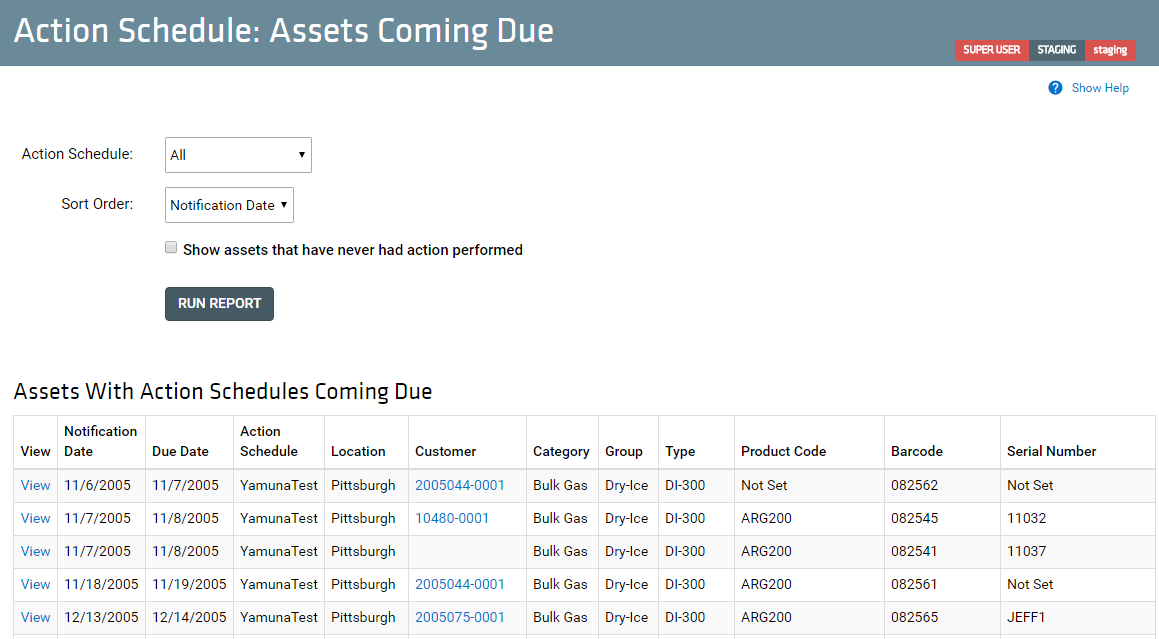 We've updated the page to make sure we're only including assets with product codes specific to the Asset Families included in the Action Schedule. If you want more information about this feature, read the page on Maintenance: Track Maintenance Coming Due.