TrackAbout is always putting out new features and improving existing ones. Below, you'll find information about some of the changes coming out of TrackAbout in the next scheduled software release.
If you have questions about how you can start using any of these new features please reach out to our Support team at support@trackabout.com.
Features and Updates
Beeps and Vibrations - Device feedback
Operators are sometimes scanning larges numbers of assets in the course of their day and need to get through their processes as quickly as possible. For some handheld devices, TrackAbout provides audible and haptic (vibration) feedback when scanning so that operators can receive messages without having to take time to look at the screen after each scan.
For instance, if an asset if scanned and the system successfully recognizes the barcodes, a beep will sound. If the asset barcode is not recognized or there is an error during scanning, the handheld will emit a different kind of sound, vibrate and flash red (if applicable, by device).
TrackAbout's beeps and vibrations are available to all scanning clients, but are only fully supported on some handheld devices. Please contact our Support team if you are interested in this feature.
Proof of Delivery - Support for Sales Order Numbers in Orders Integration
TrackAbout's Proof of Delivery module allows users to send Orders/Pending Delivery information from their accounting system to TrackAbout. This provides personnel all the information they need about deliveries right from their mobile device.
Some companies use a Sales Order Number to link together their Orders and their Deliveries. TrackAbout now supports Sales Order Numbers in the integration of Orders between accounting systems and TrackAbout. In addition, we now print this information on the Delivery Receipt that is left with the customer.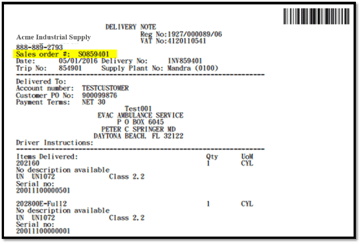 This feature is available to clients using TrackAbout's Proof of Delivery module, and needs to be set up for you by TrackAbout Support.
No More Interruptions during New Releases!
TrackAbout has made improvements to the way we release new versions of our software. "Zero Down Time" deployments mean you can go about your regularly scheduled business while a new version of the software is being released. No longer do clients need to be aware of the time window in which deployments will take place as there should not be any disruption to your use of the system. For the short term, however, we will continue to publish maintenance windows and only update code during these windows until we're 100% confident in the new method.
iOS and Android - Time to upgrade your Operating System
As of March 2016, TrackAbout will no longer support updates for Apple iOS 7 on iPhones and iPads. Clients utilizing our mobile application on iOS 7 devices can continue to use the application, but should be cautioned they will not receive any further updates to the application.
iOS7 users should upgrade their devices to a more current operating system to continue to receive great new updates for TrackAbout's mobile application for use on iOS smartphones and tablets.