TrackAbout regularly puts out new features and improves existing ones. Below are some of the changes in the most current software release:
Current Inventory – Saved Custom Searches
Customer Audits – Improved Filtering
Truck Reconciliation – Support for Return Only Trips
TAMobile 6 – Security Enhancements
New Ownership Type
Smartphone – Support for Scanning Lost Assets during Order Creation
Removed Trucks from Add New Order drop down
Search by Trips during Find Trip Load
Alphabetized Asset Family page
Performance improvement for the Ramp Lots page
If you have questions about how you can start using any of these new features, please reach out to our Support team at support@trackabout.com.
Custom Searching from the Current Inventory Page
TrackAbout has created new functionality to allow users to create custom reports that can be saved, shared, and easily exported right from the Current Inventory page. The Current Inventory Page can now be customized. You can create, save, bookmark, and share as many versions of the report as you like.
TrackAbout chose to enhance the functionality of the Current Inventory Page because it is our most heavily used report, and results in many requests for custom reports.
Creating Saved Searches
From the Current Inventory page, go to the bottom of the filter criteria and click on the button Customize.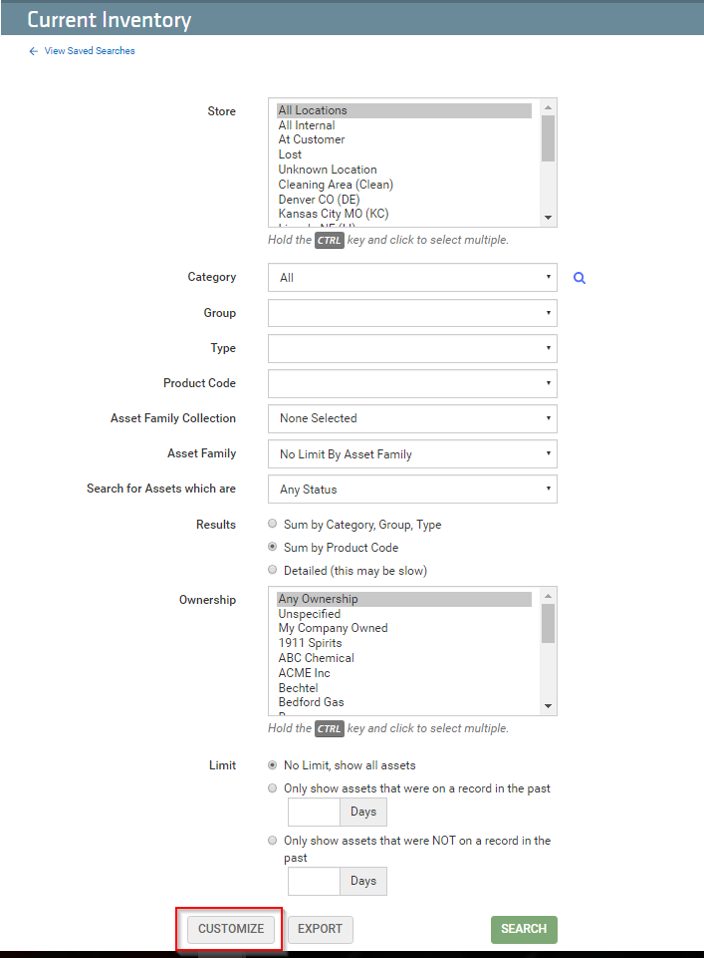 Once you tap the Customize button, you will see different options (Search Settings) to customize the Current Inventory page and save this view so that you can come back to your customized search and run it again.
Below is an example of what the Search Settings page looks like.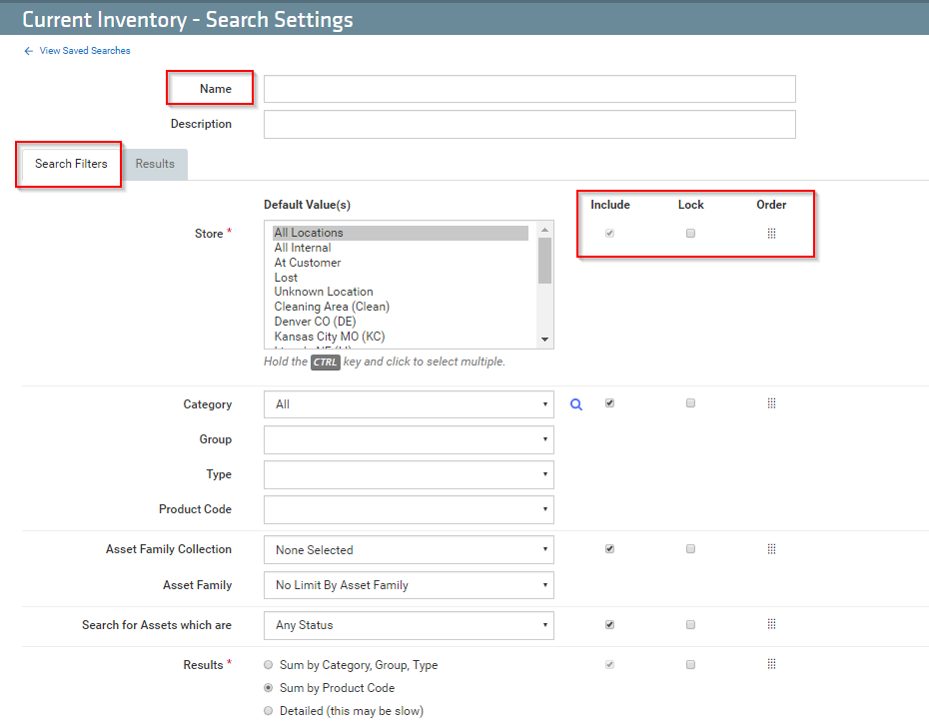 How to use the Saved Search page
Name and Description – please give your report a meaningful name so that it is easily recognizable and distinguishable from other reports (example: Denver – Full Medical Oxygen Cylinders)
Search Filters – Use these to refine the data you will view in your report. You must always
include at least one location/branch/store,
have the results displayed in a summarized fashion by classification or product code, and
have ownership displayed.
Items with an asterisk sign (*) are required.
Additional Options
For a saved search report, you can choose to:
Include – if the box is checked, the search parameter will show on the report
Lock – you can choose to lock a search filter so that it specifies whatever value you have selected during the saved search and it cannot be changed (example: locking Branch for Denver will then only show results for Denver)
Order – you can now change the order in which your search filters are shown to you. When you click "Order" you can drag and drop search criteria as you see fit.The Results that show up in the table (columns to show) can also configured by clicking on the Results tab:
As with the Search Filters tab, the Results can be:
Ordered as you like by dragging and dropping each line
Shown or hidden based on your preference
Saving a Search for later use
Once you are satisfied with the report you've created, click Save at the bottom of the screen

Finding and Running Saved Searches
From the Jump To box, type in Saved Searches to go to the Saved Searches page. Here, you will find a list of all of the reports you have created. They can be edited, shared, and deleted from this page.
Edit – Takes you back to the Customize Search page for this particular report so that parameters can be changed
Share – This link will give you a link to share the report with colleagues

Delete – Before clicking delete, be sure you want to delete the saved search. Once you click delete, the saved search cannot be retrieved.

To run a saved search, click on the Name of the report and you will be taken to your customized view of the Current Inventory page. Search at the bottom of the screen to run the report.
Note: You can also edit the Saved Search from this page, by clicking on the Edit Search link at the bottom of the screen.
You will see the results of the search tabulated at the bottom. These results can be exported to Excel by clicking on the Export button, as shown below:

Easier Filtering for Customer Audits
When resolving Customer Audits on the website by using the Create Customer Audit page, you can now search for specific audits by the following filter options:
Multi-select Filter by Users
Search by Audit Name: This option allows you to search for complete or partial audit names.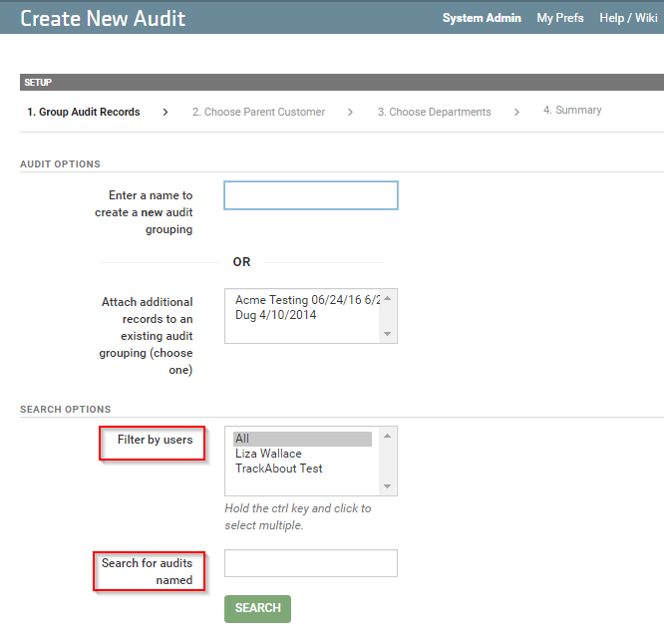 Allowing Truck Reconciliation on Return Only Trips
For customers using TrackAbout's Truck Load/Unload Module, truck reconciliation requires that at least one Load, Deliver/Transfer, and Unload Truck take place. However, previously, trucks that had return only trips could not be reconciled because TrackAbout could not load a trip with zero assets. We now provide support for "empty" Load Truck actions to allow you to manage Return Only trips.
If you use the Picking/Sort Trip action in TrackAbout:
Go into the "Picking/Sort Trip" action and tap "Save"
Go into the "Load Truck" action and tap "Save"
If you use the Load Truck action in TrackAbout:
Go into the "Load Truck" action and tap "Save"
For more information about how Sort Trip Load (Picking) works, please refer to the TrackAbout Wiki.
Changes to Mobile Device Authorization for TAMobile 6 Clients
For our customers currently using TAMobile 6 on handheld devices with mobile unit passwords, TrackAbout has enhanced the way we authenticate users.
How does this change benefit me?
When users log in, their access and permissions will be authenticated with the site, to ensure that the user is valid. TrackAbout will also verify that a user has permissions to save action records upon a wireless save.
For example, if Joe Smith saves a Fill record, when the record is saved wirelessly, TrackAbout will verify that Joe is indeed a Filler with the appropriate rights to use the Fill action.
Session Length
Once a user is logged into TrackAbout on a handheld, they have 4 idle hours before TrackAbout will ask them to enter their PIN again. This session time only applies to online/wireless save actions. Each time a user saves an action or the system does a lookup to the TrackAbout server the session length will start again.
What if I only use actions offline, like Delivery?
This will not affect you, as the records will be saved locally on the device. This process only affects online save actions.
How do I know if I use PINs?
When you log into the TrackAbout application on your device, and you are asked to "Enter your PIN", your authentication process will change as stated above.
New "Customer-Owned" option for Ownership Types
To further differentiate between ownerships, TrackAbout has added a "Customer-Owned" option to the Ownerships page. Previously, the only options were:
Company-Owned (default)
Vendor-Owned
Supplier-Owned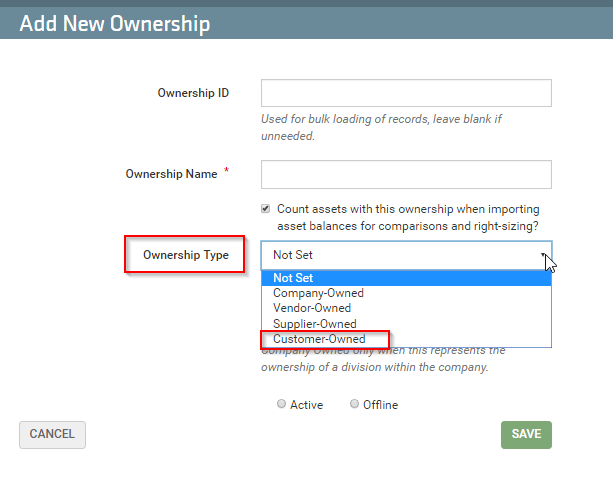 Smartphone – Scanning Lost Assets during Create Order
If you use the Create Order action on Smartphone devices, which allows customers in the field to request assets for delivery and pickup, TrackAbout now allows Lost Assets to be scanned and added to an order.
For more information, please refer to TrackAbout's Wiki page for Mobile Ordering. To set up this feature, please contact Support at support@trackabout.com.
Prevent Deliveries from Trucks on the Website
When creating an order for delivery/pickup from the "Add New Order" page on the website, users can no longer accidentally select a Truck as the Deliver From Location.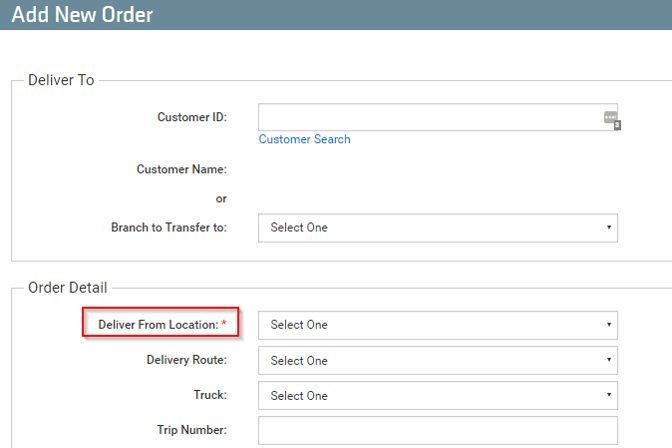 Easier Trip Searching during Find Truck Load
For Point of Delivery customers who uses Trip Numbers, TrackAbout now allows users to type in a trip number on the Find Truck Loads page. This can make it easier to complete or find a Truck Reconciliation in reporting.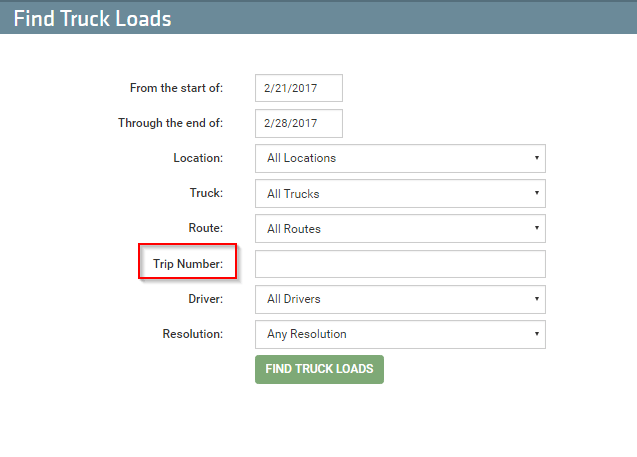 Find Truck Loads is used during the Truck Reconciliation process. For more information, please see the TrackAbout Wiki for Truck Reconciliation.
Alphabetizing the Asset Family Page
Some TrackAbout customers use Asset Families to establish production business rules, control asset workflow, and improve reporting.
The Asset Families page is now always shown with asset family names in alphabetical order.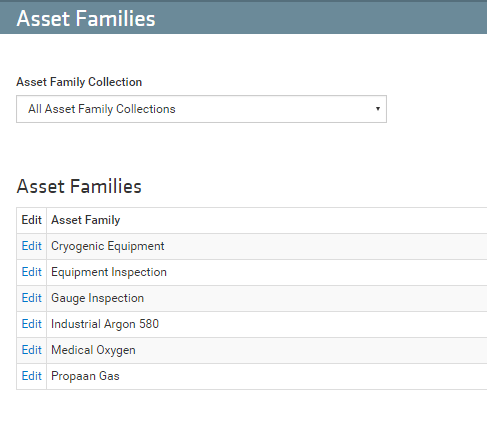 Making the Ramp Lots Page more efficient
Many of our customers use TrackAbout to manage Lot Numbers / Batch Numbers. Ramp Lots are an example of this batch tracking and the Ramp Lots page is used to review and manage open Lots.
To cut down on the initial loading time of this page, TrackAbout now only initially loads open lots, although a user can still select a Ramp Lot Status of "Closed" or "Closing" to view all lots.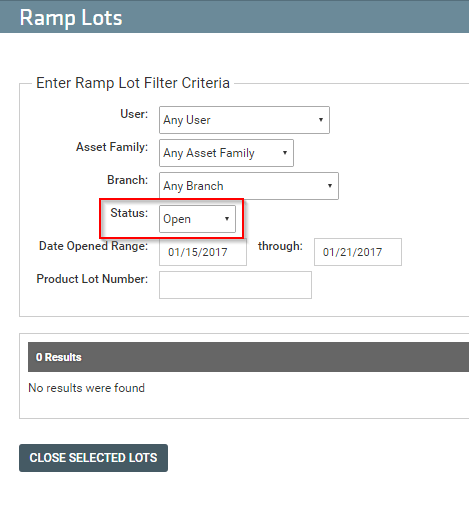 See our TrackAbout Wiki on Lot Number Tracking for ways to use Lot/Batch Management.