TrackAbout regularly puts out new features and improves existing ones. Below are some of the changes in the next scheduled software release.
If you have questions about how you can start using any of these new features please reach out to our Support team at support@trackabout.com.
Collision Resolution - More information about merged assets
When a new asset is created that TrackAbout thinks may already exist in the system, we create what's called a Collision. When resolving collisions, the user has the opportunity to merge the new "colliding" asset with the existing one. Once complete, the result is one merged asset.
We now provide better information on the website, displayed on the Asset History page, to make the merged information very clear to viewers.
Actions that have been merged into an asset's history will appear in italics and display a (1) superscript.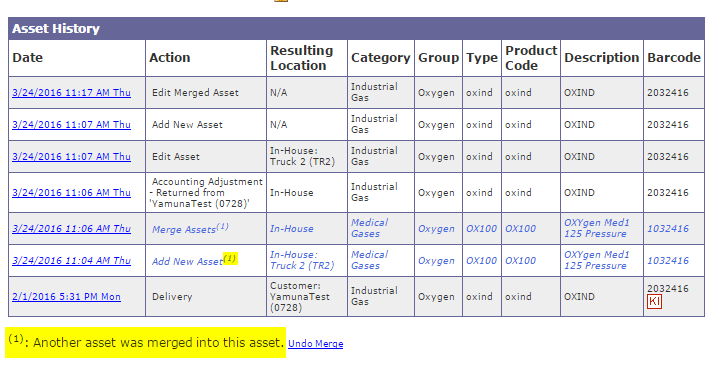 This enhancement is available to all TrackAbout Core Tracking subscribers.
Separate Complaint functions for "Full" and "Empty" assets
During the TrackAbout Proof of Delivery process, drivers have the ability to capture information about assets that are returning from customers with some type of "Complaint". Issues such as "Didn't use it", "The cylinder was empty", "Equipment was dirty" are all common scenarios.
Previously, TrackAbout treated all returning items with "Complaints" as empty assets and the information was captured through just one Complaint button. Now, users have the ability to choose whether assets are being returned as Empty or Full by selecting "Full Complaint Return" or "Empty Complaint Return".
Here is a snapshot of the Proof of Delivery Complaint feature: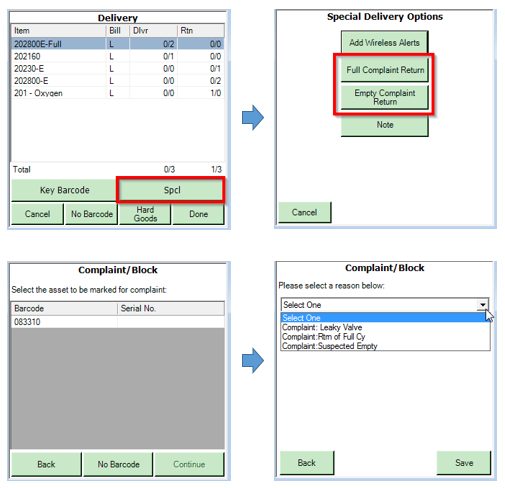 When saving a delivery record, assets with Complaints will be included in the Proof of Delivery receipt and on the delivery record available on the TrackAbout website.
For clients tracking asset Use States, these complaint assets will be updated in TrackAbout with a Use State of "Complaint". Those assets will not be permitted for use in other handheld actions until the complaint status is removed.
Registering Complaints during delivery is available to all TrackAbout clients using TAM6 and subscribing to the Proof of Delivery module.
Product Code Generation during Receive from Vendor
Did you know that TrackAbout can assign product codes for you? Based on pre-defined rules, set by you, TrackAbout can generate product codes during certain TAM6 handheld actions. This reduces time spent on selecting the correct product code for an asset and decreases potential errors that come with having your operators manually choose product codes themselves.
We've fixed a small issue during Receive from Vendor (Some companies call this action Vendor Received or Third Party Filling) that was preventing product code generation from supporting separate rules based on asset type (cylinders, containers, and bundles). Now, even when scanning containers or bundles in from Vendors, TrackAbout will generate product codes to assign to your assets.
This feature is available to TrackAbout clients using using TAM6 with Core Tracking and is set up to use Asset Families.
Create Pending Interbranch Transfers from the website
Our Proof of Delivery module provides a terrific way to conduct interbranch transfers (moving assets between internal locations) without the need for physical paperwork.
Previously, the way to get information about your pending transfers into the TrackAbout was through a series of System Integration options. However, now you also have the option to enter the information manually through the website.
The Add New Order page on the TrackAbout website is used to create Pending Customer Deliveries (Orders). Now, this page will also support creating Pending Interbranch Transfers.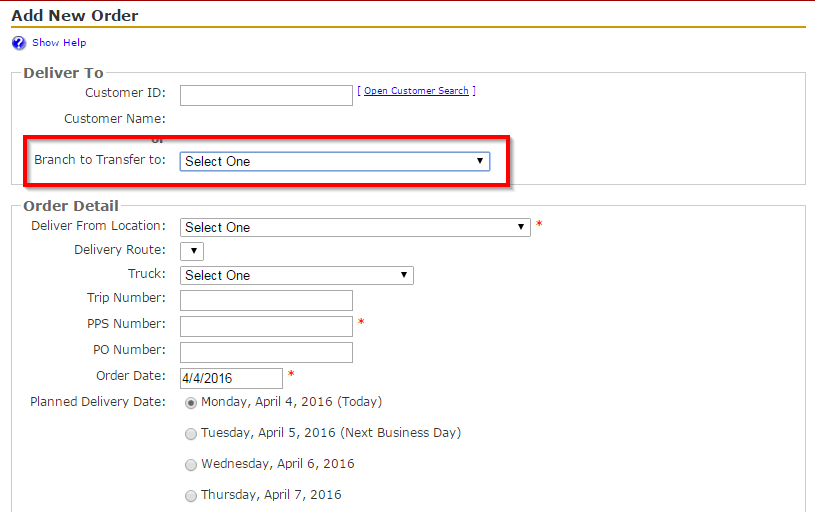 You will be asked to enter information about the Pending Interbranch Transfer such as the date of intended transfer and items to be transferred along with the Origin and Destination branch locations. Once saved, this information can be synchronized to your handheld devices to complete the transfers.
As with any transaction made through Proof of Delivery, you'll then be able to compare this pending transfer information to what was actually transferred through TrackAbout's mobile or website delivery capture options.
This feature is available to TrackAbout customers subscribing to the Proof of Delivery module.