In Part 1 of this three-part series, I will discuss the pros and cons of today's enterprise rugged devices in the context of their use in an asset tracking software system like TrackAbout.
In Part 2, I will compare and contrast the enterprise rugged devices with the leading consumer devices available today, focusing on applicability for industrial scanning applications.
Finally, in Part 3, I'll draw some conclusions and discuss future product direction for TrackAbout.
Enterprise Rugged Devices
TrackAbout has been delivering mobile software solutions for ten years. Our mobile users include factory and industrial plant workers, dock workers and truck drivers. They're a pretty rough-and-tumble bunch as far as devices survivability is concerned. The work involves frequent, rapid and accurate barcode and RFID tag scanning. Our users need their devices to withstand a substantial amount of abuse and operate in very demanding environments without fail. These requirements led us to deliver our software on so-called "enterprise rugged" mobile computers like these: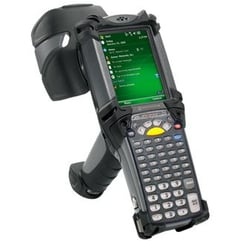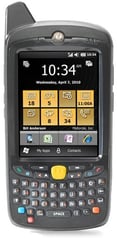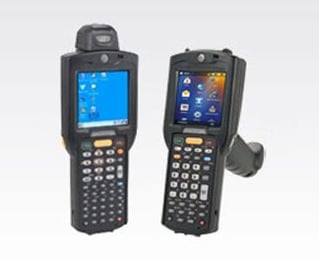 Motorola Solutions, Intermec, and Honeywell are the leading manufacturers of enterprise rugged devices (at least, for the United States market). The techno-savvy among you may recognize that all the devices pictured above are running variations of Microsoft's Windows Embedded operating systems (formerly known as Windows CE or Windows Mobile). In fact, all the mobile computers in this class run this same family of operating systems, and none of them run Android, iOS, Windows Phone 7, Blackberry or any other mobile OS of note. Furthermore, none of the manufacturers of these devices appear to be making any public moves towards supporting any other OS.
Ignoring the glaring monopoly Microsoft has somehow attained, let's explore some of the characteristics of the current crop of enterprise rugged devices.
Pros
Support: Microsoft, the only OS-provider in the space, has committed to ongoing support for what they're now calling Windows Embedded. Say what you will about Microsoft, few software companies have shown the dedication to offering long-term support for their products and platforms like Microsoft has throughout its history. This kind of support gives enterprise customers a big warm fuzzy regarding the safety of their investments.
Furthermore, the OEMs that manufacture enterprise rugged devices offer long-term service plans and guarantee availability of replacement parts for years and years. On several occasions, we've needed to communicate directly with OEM engineers to request OS patches to fix issues we've found during the course of software development. And we've received the support and the patches we needed in a timely manner.
Rugged: These devices can take a beating. Their spec sheets always include information regarding their drop specifications (the number of times a device can be dropped to concrete, and from how high), their supported temperature ranges (wider than typical consumer devices), and IP Codes which indicate the degree the devices are physically sealed to reject dust, dirt and other contamination from the environment. There is a range of different devices suited for various environmental conditions.
Physical Keyboard: A physical keyboard providing tactile feedback can be helpful for accurate and rapid data entry in the field. Touch screen keyboards can be too small and difficult to use, and usually obstruct the view of the application. Regardless whether you agree, you have both options available. Several models allow you to choose whether your get a mostly numeric keypad or one containing both alpha and numeric keys, allowing you to optimize the keyboard for your particular application.
Screen Technology: Most of the rugged devices are still sporting yesteryear's resistive touchscreen technology. Resistive screens have fallen out of favor in consumer devices, having been replaced by capacitive touchscreens. Capacitive touchscreens are much more sensitive to touch, requiring almost no pressure whatsoever. But because they depend on electrical skin conductivity to work, capacitive screens cannot be used effectively while wearing gloves. This becomes a consideration when using these devices in cold weather.
Signature capture is a bit easier with a resistive touchscreen, and most enterprise rugged devices come with a tethered stylus.
Screen size, aspect ratio and resolution vary among devices. The variations make it challenging for a software developer to deliver a consistent experience across multiple device models. This is a problem among all mobile devices, not just the rugged ones.
High Capacity, User-Replaceable Batteries: Rugged devices are designed for rapid battery replacement. Battery doors have simple latches and batteries are easy to swap. You can typically hot-swap a battery without rebooting, provided the small backup battery still retains a charge, which it sometimes doesn't. Extended-life batteries and oversized replacement battery doors are available directly from the device manufacturer.
Manageability: A variety of tools exist to help manage a fleet of devices. The tools can, over the network, remotely control devices; install software; change configuration; wipe the memory; lock down the device so a user can use only specific apps; and enforce security policy. This helps a company maximize their investment/ROI and reduce support problems/time-to-fix.
Scanners/Readers: Most come with integrated and ruggedized scanners or readers that "just work". You can choose between laser and imager scanners, 1D or 2D, and a wide variety of RFID readers. Devices tend to have multiple dedicated scan buttons within easy reach of a thumb, allowing for one handed scanning. Beeps can be configured to provide audible feedback of good and bad scans.
Particularly useful for industrial scanning applications, you can get devices that come jam-packed with both an RFID reader and an integrated barcode scanner. Even if you use RFID tags for your unique asset ID, barcodes can still be used in a number of user workflows to accelerate and increase the accuracy of data entry.
One manufacturer, Psion (Now Zebra), makes a line of mobile computers that has an expansion slot into which can be placed a wide variety of third-party devices, such as special-frequency RFID readers which Psion may not offer stock.
Cons
Cost: These devices are expensive. Factor in accessories such as batteries, straps, charging cradles, warranty, etc., and each device can cost anywhere from $1200 to $3000 and up! Why so expensive?
The market for these devices, compared to the consumer mobile device market, is very small.
Manufacturers cannot achieve the economies of scale that those of consumer devices can.
Manufacturing a well-engineered rugged device requires more cost in materials.
The integrated scanners, readers and keyboards add cost.
Due to the long support life of these devices, parts like resistive touchscreens and aging radio chipsets become more difficult to source or manufacture over time, especially in the small batches required.
These factors, and likely others, drive up the cost per unit compared to typical consumer devices.
Last Generation Technology: As we've already discussed, these devices are planted firmly on the previous generation of Microsoft's mobile operating system, Windows Embedded. There are no major phone manufacturers still delivering consumer devices on this platform today. The majority of software developers have set their sites on newer and growing ecosystems like iOS and Android. This means the pool of developers interested in and capable of developing for enterprise rugged devices is shrinking. This drives up the cost of software development.
Wrap-Up
In my next post, I'll take a look at consumer devices and discuss how they stack up against their enterprise rugged cousins.