How HMEs Can Maximize Asset Tracking Technology to Compete in an Uncertain Marketplace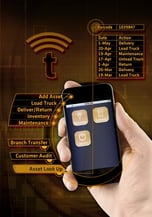 By now, you're probably aware that an automated asset tracking software solution offers a world of advantages including better equipment utilization, loss prevention, accurate rental billing, and more. These benefits alone can help your company survive as your reimbursement, regulatory and business environments continue to evolve.
However, the value of asset tracking software doesn't stop there. Collecting data about the physical location of your equipment is only part of the picture. When you extend the capability of the mobile device – whether it be a handheld computer or a smartphone or tablet – to automate your workflows, you access a new level of efficiency and control.
For example, paper-based deliveries involve manual processes that are time consuming, prone to errors and costly to manage. You can store all of the information from the delivery ticket on the mobile device and use the device to record electronic signatures. Now you have no need for paper tickets. No more lost tickets. No more illegible handwriting. All the information is stored electronically in the mobile device and downloaded directly into your accounting system in real time or batch mode, depending on the capabilities of the device being used.
Likewise, you can digitize your existing forms to appear on the mobile device. When you provide equipment to a customer, you most likely have a checklist of tasks that must be completed. That list might include installation procedures, providing customers with instructions on how to operate the equipment, obtaining the customer's signature, and so on. What happens when your employee forgets to perform one of these tasks? Unless they return to your customer's location, your documentation is incomplete and you could be at risk if your business is audited. By digitizing your forms and important processes, you ensure your employees follow procedures as required. There's no chance for incomplete information or skipped steps because the screens on the mobile device won't advance until the required information is entered by the employee.
If you perform maintenance on your equipment, you can record, track and report repair, inspection and testing actions and be alerted of equipment with maintenance due. You can also establish step-by-step processes to follow for a given maintenance action and enforce the collection of information at each step. Detailed and accurate records help ensure that your equipment is performing in line with manufacturer warranties and can be essential in supporting your case in a lawsuit over faulty equipment.
Learn more about asset tracking software for HME distributors.