In my 19 years of cylinder tracking, things have never been brighter. A combination of technologies are letting our industry get more and more use out of cylinder tracking. It's never been easier or cheaper to get started and the business improvements have never been better.
So what do I see as the next evolution of tracking...
First what I do not see:
RFID still not there
(Are we there yet?)
People always ask me about RFID tags. These are radio frequency tags that can be scanned from a distance. From what I've seen they can work when scanned from close range, but not from a long distance. It would be great if you could drive a truck under a sensor and read all the cylinders on the truck, but the physics of metal cylinders is causing problems with this scenario. When scanned from close range they read quickly and can read through dirt and ice. Some tags can also survive shotblasting. There are pros and cons to RFID and they are not a fit for all businesses. Most customers opt for the simplicity and lower price of barcodes. If they want to scan faster we achieve this by barcoding pallets and having a scan of the pallet act like a scan of the cylinders inside. That's typically a 16x speed improvement and that's often more than enough.
Here are some of the trends I do see having a huge impact on the near-term future of barcode scanning.
Scanning with smartphones
(There's an app for that)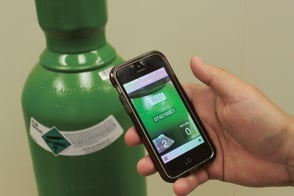 We all have a smartphone in our pocket. The cameras on these smartphones are an excellent barcode scanner as well. We continue to see customers push scanning out to the edges of the company. This includes sales people doing impromptu cylinder audits as well as customers continuing to scan inside their facilities.
With all employees having cheap access to a scanner, any piece of paper in production or distribution is an opportunity to digitize.
There is still a place for dedicated rugged scanning computers in the plant or on large inner branch deliveries of non-palletized cylinders, but most drivers just need smartphones. This is slashing the total cost of tracking projects. For the cost of a few dozen cylinders you can be up and running with a tracking system. It has never been cheaper and I think most companies will be tracking in the next several years.
Using geospatial data
(Dude, where's my cylinder)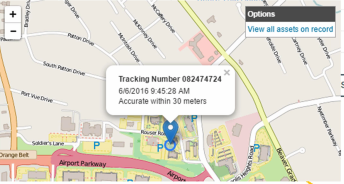 For quite some time we have known who scanned what and when. We now finally also know where. This is huge. Software can generate maps of all the scans in a city and let customers see where their deliveries and pickups are happening. Proof of delivery is also enhanced when you can show a customer a map of where a delivery happened.
A surprise benefit to me… One customer recently told me that they thought that up to 25% of their customer ship-to delivery points were improperly geocoded in their route planning software. You can't get the most out of route planning system with bad data. Digital asset tracking will fix this.
Adding photos
(Let me take a selfie)
Adding the ability to take pictures to a tracking app opens up a whole new group of benefits.
One is proof of delivery. Amazon now does this. They will give you a picture of your package on your porch. Our industry needs the same for deliveries when nobody is there to sign for it. A photo of your cylinders on the loading dock is very strong proof that you made the delivery.
Another use is safety. Send customers a photo of cigarette butts by their acetylene storage area.
Prove damage with a photo of an arc burned cylinder at a customer location before putting it on the truck.
Every asset should have its own photo. Are these two assets in the system really the same asset in real life? Was that serial number entered properly? Let's check the asset photos.
A final use case is capturing a digital image of a document. This is useful for vendors' certificates of conformance.
Real-time dashboards
(That just happened)
Plant operations should have real-time dashboards of filling progress against plans. Real-time systems are used to catch problems as they happen, when they are easiest to fix. Butler Gas is one company using real-time dashboards in their plants. It shows an up-to-the-minute view of what has been filled that day so that operations can best allocate resources.
Blocking for safety
(I wouldn't do that if I were you)
We started TrackAbout with a view that the system should be very simple and not get in users way with lots of alerts. They know what they are doing. Our view has evolved on this. We are now seeing first-hand the benefits of adding important safety checks in the software. We must help to prevent dangerous situations and ensure that leaking, out of test, or cylinders with any other complaints are not getting filled or delivered.
Customer partnerships
(Would you like some data with that)
We continue to see gas distributors going beyond fighting over cylinder balances and elevating customer discussions. You should be helping your customers find cylinders that are not moving. Help them find out which other company is returning their cylinders. You are providing a commodity product and you must be using digital services to differentiate and keep up.
Interested in learning more about which Asset Tracking Solution is best for your industry?
This article originally published in gasworld on April 1, 2019.