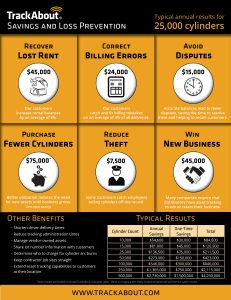 Depending on the size of your company and the number of cylinders you have to track, asset tracking software can save you thousands of dollars every year.
TrackAbout customers are achieving significant gains in operational efficiency, cost reduction and revenue growth in several areas.
The evidence shows that distributors tracking 25,000 assets are saving an average of $211,500 ($136,500 per year, plus a one-time savings of $75,000 from not having to purchase new cylinders for a year). For distributors tracking over 250,000 cylinders, the savings amounts to several million dollars.
Download the Asset Tracking Software Savings and Loss Prevention infographic to see the numbers that correspond to your business.