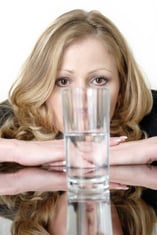 This could be a defining moment for your company. Sooner or later a customer or prospect is going to require you to have asset tracking capabilities in order to do business with them. It's likely they've experienced disputes over asset balances and incorrect invoices. Or perhaps they need a better way to comply with regulatory requirements. They've heard that asset tracking software improves accuracy and they see it as a way to manage these issues. How you react could be the difference between mediocrity and excellence.
Half Empty Outlook
Companies that view the glass as half empty see asset tracking as an annoying request of a demanding customer, as if it's a necessary evil to keep this customer's business. They think this requirement is a hassle. They believe asset tracking is difficult to implement and that they'll never see a real return on it.
These companies reluctantly implement an exception-based tracking system, using it only for customers who require it. They fail to collect relevant data that could help transform their entire business. Some rely on a manual, paper-based system which is time consuming and costly to maintain. Other less-reputable companies fake a solution, going so far as to place tags on their assets but don't actually own a scanning device.
Half Full Outlook
Companies that view the glass as half full realize the customer's or prospect's requirement is a chance to join the modern age by incrementally implementing an asset tracking software solution, customer by customer. They understand how asset tracking software can reduce costs and lead to operational advantages.
These companies embrace an opportunity-based asset tracking software system that helps grow revenues and win new business. At TrackAbout, our clients have been able to secure monthly tracking fees and extended contracts as well as bid on business previously closed to them. Some of their customers have even changed the wording of their contracts to make it hard for other companies to quote on the business.
TrackAbout customer TWSCO, a packaged gas and specialty gas distributor in Houston, TX, takes an opportunity-based view of asset tracking. "We wanted to institute a tracking service fee across our entire customer base," said Lee Chenoweth, former TWSCO Executive Vice President. "By producing a video that highlighted our TrackAbout tracking system, which we named Tru-Trac, and explaining the value and cost savings it brings to our customers, we were able to institute the service fee with very little resistance. We just told folks to look at the video."