Rampage 6
In a previous post, I mentioned a rugged Android device called the Trimble Nomad, introduced in 2009.
One of the manufacturers of rugged Android devices, SDG Systems, in partnership with Juniper Systems, just announced a new device, the Rampage 6. Here's the press release from Juniper's web site. The device should be available in Q3 2012.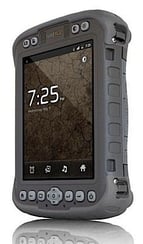 The Rampage 6 will run Android (AOSP) 2.3. It's not the latest version of Android (4.0.4 as of this writing), but rugged hardware rarely runs the latest version of any OS.
The Rampage 6 sports a 5.7-inch display, IP67 ratings for ingress protection, an 806MHz processor, 256MB of RAM and 4GB Flash memory. An optional 1D/2D barcode scanner is mentioned. See the site or press release for the rest of the specs.
A bit of research reveals that the Rampage is probably the same exact hardware as the Juniper Mesa Rugged Notepad, released last year, except the case color is gray and the OS is Android.
Flowgistics GmbH Flowtouch Compadion and Speedmaker
UPDATE September 19, 2014 - Our broken link checker would seem to indicate Flowgistics GmbH is no longer operating. We're removing the links to their now-defunct site.
Last week, I was contacted by a representative of Flowgistics GmbH from Berlin, Germany, who had read my previous blog posts regarding rugged enterprise hardware and rugged iOS devices.
Flowgistics has created two unique and innovative shells, one of which encases an iPod Touch, and another which encases an iPad. Both provide ruggedness and bar code scanning capabilities. I am told the bar code scan engines are made by Motorola Solutions.
The Flowtouch Speedmaker encases the latest iPod Touch model. It is shown on their web site as being worn on the arm, attached to a neoprene sleeve using Velcro. An innovative feature is the ability to fire the bar code scanner by tilting one's wrist.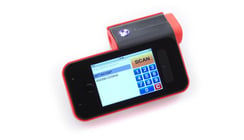 The Flowtouch Compadion encases an iPad 2.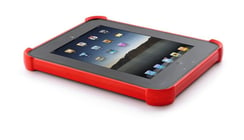 The Flowgistics web site and marketing materials claim that the Speedmaker is rated IP65 and the Compadion is rated IP67. When I requested evidence of testing, I was told the testing had not yet been completed but was scheduled for July 2012. The company told me that in their own testing, the Compadion survived being immersed in water beyond 50 cm (19.69 in.) and was dropped from a height of more than 120 cm (around 4 feet) to concrete 100 times. No claims were made for the Speedmaker. They had no plans to investigate MIL-STD testing until I mentioned it, but said they would investigate the cost.
I inquired as to whether these shells could be certified intrinsically safe for explosive environments. I was told that they plan to be tested for ATEX Zone 2 shortly, and will apply for Zone 1.
I found the specifications sections on Flowgistics' site a little confusing. They have mixed the specs of the underlying iOS devices with the specs for their custom shells, as though they are sold together as a packaged unit.
Overall, Flowgistics was very open and I thank them for answering my questions.
Flowgistics has let me know they are looking for customers and partners in the US.