Originally published in CryoGas International.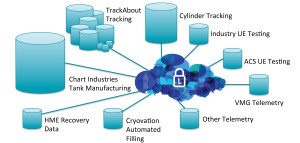 Like it or not, we live in an age of connectivity. It seems like everyone has a smartphone and soon every thing will have some way of communicating through the Internet. Technology is taking us places people only imagined a few short years ago. The Internet is no longer only something we log on to for work or for play or to find a good deal.
The Internet of Things (IoT), where objects are equipped with identifying devices or machine-readable tags like barcodes or RFID chips, is transforming daily life. This smart technology tracks aging family members' routines and issues an alert if disruptions occur. Smart thermostats use sensors, real-time weather forecasts and the activity in your home to reduce monthly energy usage. Smart machines avoid downtime with embedded sensors that enable maintenance to be scheduled ahead of a failure.
Across every industry, companies are discovering new ways to use smart technology. TrackAbout and its affiliate company Lockhouse are revolutionizing the way industrial gas suppliers and distributors think about their assets.