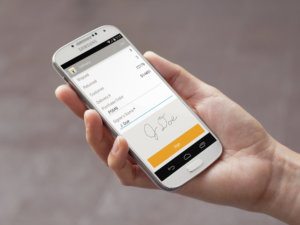 This article was written by Stuart Radnedge of gasworld and originally appeared in the May 2015 issue. It is reprinted with permission.
Technology, and the advancement of it, propels innovation – influencing changes for a better, more efficient mode of conducting everyday life. The late, great, co-founder of Apple, Steve Jobs, once stated, "Technology is nothing. What's important is that you have faith in people, that they're basically good and smart, and if you give them tools, they'll do wonderful things with them."
This couldn't be more true a description than that of the humble telephone – or its development into what we now know as the smartphone. Once the wired telephone lost its cabled connectors, boundaries were broken – and a tool for long distance communication between humans suddenly became limitless. It's only over the last 15 or so years that the smartphone has become the fully integrated companion to our lives.
And in this In Focus… we look into the positive effect that smartphones – and technology as a whole – has had on the tracking, scheduling and telemonitoring sector of industrial gases.
Smartphones – a positive impact
There can be no doubt that the humble smartphone is responsible for the progression of this sector – an opinion shared by those in this very industry.
The advancement of communication networks, which mobile phones operate from, has resulted in a reduction of the cost of similar components. General packet radio service (GPRS) is a packet oriented mobile data service on the 2G and 3G cellular communication system's global system for mobile communications. Put simply, it's the mode of data transport used by smartphones – which makes the humble phone, smart. Due to the rise in demand for this technology, those in the tracking, scheduling and telemonitoring sector are reaping the rewards of the cost of their services, on the technological purchase price, being reduced and thus, an affordable option for the customer being established.
For Ambra Sistemi's Business Development Manager, Massimiliano Sabbatini, affordability is driving growth. He explains, "The big help arrived with the introduction of GPRS data communications. Here, the costs for data transmissions are very low, from €1.00 to €1.50 per month – getting data every hour."
"With solutions though the traditional Public Switched Telephone Network (PSTN), Global System for Mobile (GSM) and Short Messaging Service (SMS) the costs were much bigger. Another big advantage for the telemetry diffusion is the solar panel solution, because it reduces the costs for the installations, eliminating the expense for electrical cabling – and in particular cases, when the telemetry system also integrates the sensor for level and pressure."
"Thanks to these solutions, now there are additional available options to extend the telemetry system to the totality of the cryogenic tanks being monitored."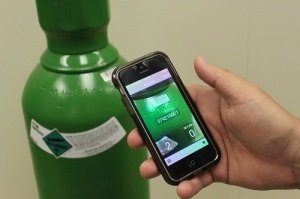 For US-headquartered company TrackAbout, smartphones are not the only reason demand for its products is booming. Doug O'Dell, Vice-President of Sales, explained, "Another factor is the proven benefits provided by asset tracking software. For example, it's hard to argue against a software system when a distributor doesn't have to purchase new cylinders for an entire year because they're using their existing ones much more effectively, or that rental balances increase by an average of 8%. Or that billing errors are caught and corrected before being issued. These tangible benefits are impossible to ignore."
"More and more customers are requiring their distributors to have a tracking system. Customer demand is what usually influences these distributors to move forward as they begin to see how their business can be negatively impacted by the lack of tracking software."
O'Dell added, "Outside the traditional tracking grid, end-users and operators are increasingly demanding real-time information about industrial assets. As we all become accustomed to getting answers at internet speed, the less users are willing to wait to receive the information or assistance they're looking for."
Additionally, O'Dell explains, owners are increasingly dissatisfied with the data they can gather on assets that fall outside the grid – the 'black hole' as some in the industry call it – and are demanding information about those assets that only a certain amount of internet connectivity and crowdsourcing can deliver.
Technological trends
As previously highlighted, the advancement of technology and integration of the smartphone into everyday life has resulted in the growth of this element of industrial gases business. But the development of the technology itself has also seen a spark in demand as companies utilise what is available to them and realise the benefits.
In past issues of gasworld we have explored the subject of 'cylinder saviours' – the tracking and management of high pressure gas cylinders in transit. For many companies the ability to track the location of their assets has resulted in the cost of a 'lost' cylinder becoming a thing of the past. It's little wonder that a trend is emerging for more companies to invest in tracking capabilities and other associated technologies.
For Sabbatini this trend is 'the cloud' – a virtual storage system for data which can be accessed wirelessly from anywhere around the world. He said, "The cloud solutions are very important because, if in the beginning the telemetry system was dedicated for the logistic department, now it is very important for technical staff to see the trend of the pressure (in vessels or tanks), for the sales department to see the trend of consumption, and for the end-user to have a real time situation to avoid a halt in production for empty tanks."
For O'Dell, this is TrackAbout's modus operandi. "This is 'our' industry, and it's very important. Enabling the data to be accessed by those who need it at the time they need it opens up a world of efficiencies," he proclaimed. "Asset tracking software has raised the bar in the gas industry. It's really providing a competitive edge to distributors, not only in terms of improved efficiencies and cost control, but also in terms of winning and retaining customers. More and more we're seeing end-users requiring that their distributors have a system in place."
"Smartphones have also allowed assets themselves to become 'smart'. TrackAbout's affiliate company Lockhouse lets asset owners and manufacturers send critical information about their products directly to the use point via an operator's mobile device – essentially letting the asset 'speak for itself ' in the field. This helps eliminate loss of assets that fall 'outside the grid', decreases customer service costs, and allows for open channels of communication between operators and owners/manufacturers that didn't exist before."
Lockhouse essentially provides a registry for gas cylinders and other assets that connects different data systems to create a more efficient information exchange between the industry and its users. The concept came about when Jim Glessner, founder of TrackAbout and Lockhouse, met several international gas industry distributors who wanted a system that helps find assets when they get lost or stolen – and fall outside the traditional tracking system grid. The Lockhouse concept aims to fulfil an asset management niche that is not addressed by other methods – specifically, how to send and receive critical information about assets to and from end-users who are outside the grid.
Lockhouse uses cylinders' key attributes (like serial numbers and other properties) to uniquely identify assets. The QR-based Passport Tag™ for that cylinder allows access to a cloud application delivering updatable information about each asset in real time. Manufacturers and owners can therefore add information, and receive feedback and GPS locations from the operator of the smartphone.
O'Dell affirms, "While TrackAbout's cloud-based software manages assets as they move from distributor to end-user and back (on the grid), Lockhouse provides a way to recover assets that fall off the traditional tracking grid. It also facilitates industry collaboration by using the cloud to provide an asset registry that connects disparate data systems to create a more efficient exchange of information between supply chain partners."
Pushing the envelope
As we approach mid-2015, it seems strange to think that a significant number of companies have yet to truly enter the digital age, and continue to track their assets with pen and paper.
The majority of companies accept they will need to make the switch at some point soon, gasworld understands, and mass consumerism has paved the way for the tracking, scheduling and telemonitoring of assets to benefit from the reduced cost of the technology it survives on. When one considers what was actually capable before the phone became 'smart', the only question that remains is – how much further can the envelope be pushed for the benefit of our industry? My gut feeling tells me, it won't be long until we find out.