Many years ago, I traveled endlessly with my son's youth soccer team from one tournament to another. It was a 90-degree hot and sweltering summer afternoon. The players (and fans) were exhausted from earlier games in the tournament and visibly anxious because to win this game would put an end to everyone's frustration and doubts about whether this team was really good enough to play at this level. Today's game was worth all the effort because for the first time we might just win and take home the trophy, a trophy the boys had watched carried away by others so many times before. I witnessed something at the end of that particularly long season of frustrating losses that changed me forever.
The game was tied with just a few seconds left on the clock. Our team dominated most of the game and everyone had their eyes on the referee who was getting ready to tweet (his whistle of course).
Then, it happened. The other team got a fluke breakaway attempt. Our goalkeeper had been idle for most of the game--his concentration level was impaired by the heat, the fatigue, the surprise and the overwhelming weight of trying to save the game. The kick was off! And disappointingly, the ball trickled through his legs just as the referee was blowing the end-of-the-game whistle.
It was pathetic.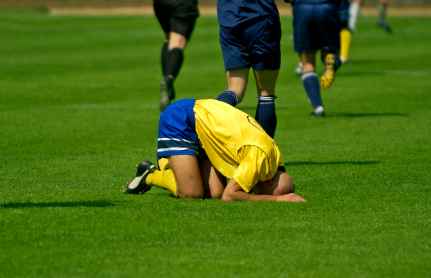 I watched our goalkeeper collapse to the ground with his head in hands. The parents and our other fans quietly turned away from the field. To say the least, we were downright embarrassed by this easy goal. The winning team was celebrating (a little more than they really deserved) and you could see more than one person shaking their head in disgust. . . except for one player on our team.
That player ran to our goalkeeper, lifted him up off the ground and with a quick word in his ear, started walking with him shoulder to shoulder towards the sideline. In that brief moment, our fans went from despair to quiet enlightenment. We were magically transformed from losers to "almost" winners. Everyone who noticed this act of sportsmanship started learning from losing, and they were congratulating the players on both sides for a game well played. Even the winning players stopped celebrating long enough to shake hands with their "almost winning" opponents.
I think about this story often especially because I watched this same team many years later become winners of many championships. I never saw another goal go through the legs of the goalkeeper. I was witness to many words of encouragement on the field and watched how this team acquired a taste for winning because they first learned the prickly pain of losing together and not blaming failure on one individual. Shoulder to shoulder losing and confronting real problems head on as a team produces great long term winners. This is an important lesson we can apply to business and life. Winning is never easy, it never feels good unless you deserve it and seldom do you forget the lessons learned from losing.
Our company, TrackAbout, has been winning lately. First, because of all the new business that is coming our way and second, because of the quality of the people that are joining us.
At first I thought that the new business growth was helping attract the new hires. But then one of our potential new clients told me that they were watching the migration of talented people in the industry joining our company. This migration of talented industry professionals joining a small technology company is what piqued their interest in our services. Now that is an interesting twist!
The people on the company team are always the reason for success or failure. Our software is wonderful, our technology partnerships are productive and our value proposition is compelling. But all of our good and hard working people walk out the door everyday and go home. If those same associates don't show up tomorrow, then our software becomes obsolete, we have no customer service and the company values and vision are lost.
So how can we encourage good people to keep showing up? I don't think we can promise working for a team that wins all the time. We all know that winning all the time is impossible. Winning is dependent on learning from losing. And sometimes winning too much can lead to complacency and even a misunderstanding of what underlying forces really drive the business success. I firmly believe that those who have tasted some failure can more easily come to terms with winning on a consistent basis. Furthermore, if you aren't stretching the limits and having a few failures then you probably aren't trying hard enough. In other words, losing can teach some lessons that make it possible to win on a consistent basis and feel good about it.
Our company, TrackAbout, has had our share of wins and losses, just like my son's team. However, the real joy in working here is seeing how our people interact and support each other each and every day. Each person brings so much value to the company and that positive energy is attracting even more great talent. And great talent makes it easier to win.