This article was written by Helen Carmichael of gasworld and originally appeared in the December 2014 issue. It is reprinted with permission.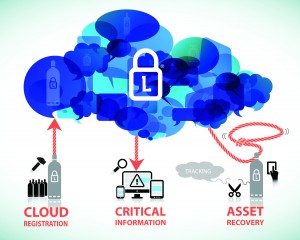 ---
Cylinder tracking is an essential tool for managing a company's prized assets. Now by deploying cloud data storage and mobile devices, Lockhouse has created another level of asset management for end-users. Helen Carmichael reports.
---
Recent years have seen an inexorable move towards electronic and bar code tagging and tracking of cylinders among many distribution companies. Although these strategies have saved a lot of time and paperwork, they have also revealed a few problems along the way. Companies have reported trying a number of bar coding strategies before finding the right one, and Radio Frequency Identification (RFID) tagging is expensive, may have reliability issues, and also may not be totally future-proof as technology moves forward.
According to Tim Fusco, CEO of asset tracking software company TrackAbout, "for customers who are using RFID, it is expensive, and they are locked into a single track. Barcodes or QR codes are more flexible."
QR codes (Quick Response Codes) are a type of matrix barcode (or two-dimensional barcode) originating in the Japanese automotive industry, and now cropping up increasingly on our products – which we can scan for more information using our mobile phones. By its choice of QR codes attached on a coated label, Lockhouse intends to use the devices already in everyone's pockets to find and recover lost assets, says Lockhouse Head of Marketing and Strategy, Cassie Glessner. "Lockhouse is an internet web application," she told gasworld. "The user scans the code on an asset with their mobile device, and brings up a specific page on that asset. Simultaneously, the location from the GPS on the user's phone or other handheld device is paired with that asset."
Lockhouse, then, provides a registry for gas cylinders and other assets that connects different data systems to create a more efficient information exchange between the industry and its users.
The concept came about when Jim Glessner, founder of TrackAbout and Lockhouse, met several international gas industry distributors who wanted a system that helps find assets when they get lost or stolen – and fall outside the traditional tracking system grid. The Lockhouse concept aims to fulfill an asset management niche that is not addressed by other methods – specifically, how to send and receive critical information about assets to and from end-users who are outside the grid.
"TrackAbout tracks assets on the grid, accessible by all employees," Fusco emphasizes. "Once it goes out of their loop – goes off-grid – Lockhouse comes into play."
Lockhouse uses cylinders' key attributes (like serial numbers and other properties) to uniquely identify assets. The QR-based Passport Tag™ for that cylinder allows access to a cloud application delivering updatable information about each asset in real time. Using Lockhouse, manufacturers and owners can add information, and receive feedback and GPS location from the operator of the smartphone.
A universal, 'one size fits all' system should mean that anyone and everyone will be able to get involved – from the inspector out in the field, to a filling systems company which is unsure who owns the vessel.
Cassie Glessner explains that there are security features in place to ensure that customers have confidence in the levels of information shared. "Most of the information is shared on an asset-by-asset basis, and is public. However, any information that customers choose can be set to private."
"The system displays data about what is in front of you, one asset at a time," she says. All standard industry protocols regarding data sharing are in place, and random searching is disallowed.
According to Cassie Glessner, Lockhouse is set to implement the system with its first customer in Q4 2014, and also has a number of pilot projects set up. These will eventually cover hundreds of thousands of assets, which customers can add to the system gradually. (Fusco points out that TrackAbout is already tracking around five million assets.) Beyond companies already using TrackAbout, Lockhouse aims to make its service as universal and seamless for any new customer as possible.
According to Fusco, a significant number of companies have yet to truly enter the digital age, and continue to track their assets with pen and paper. "Mistakes can happen, which is why more and more the world is expecting tracking," he says, adding that the majority of companies accept they will need to make the switch at some point soon. "In the future it will be expected – for all businesses to manage all of their equipment like this," he adds. Cassie Glessner agrees, adding that this movement stretches way beyond cylinder tracking, to all industries, where there is "a demand for data right away."
As well as global companies making the running, some individual countries may in future demand that all assets should be registered and managed by a Lockhouse-type system. Coming back to Japan, where the QR codes were born, the government has held a registry of all cylinders for several years (the JIMGA registration system). This is partly for safety reasons, as the government wants to control hazardous assets – but at present the system can be time-consuming, with a change in cylinder service sometimes requiring a month of bureaucracy to achieve.
Eastern insight
As this article went to press, company founder Jim Glessner had just returned from discussions with interested parties at the International Oxygen Manufacturers Association (IOMA) Annual Meeting in Japan, as well as visiting a leading Japanese distributor, Air Water, Inc., to find out more about where the JIGMA system is heading.
Glessner was enthusiastic about how Japanese industry players are working together towards a universal system to raise the bar, with their goal of implementing an RFID-based system (with similarities to Lockhouse) now underway. "The first impact of my visit was the incredible amount of collaboration between the Japanese government, JIGMA, and the independent gas companies that I experienced," he says.
This led Glessner to table the idea of industry co-operation at a global level, using systems that communicate well enough that a lost Japanese cylinder could be discoverable in the US using Lockhouse. Suggestions like this have the potential to unlock new levels of harmonization between operators across companies and nations in years to come.
Disruptive technology
However, before looking too far ahead, Glessner's second important take away from the talks was the difficulty of future proofing against shifting trends in technology. He found himself on the same page as innovators in Japan in this respect. "The Japanese system currently uses rugged handhelds, and these could continue to improve, or we could see a switch to a more disruptive technology, namely smartphones and tablets."
Companies in the asset tracking industry have to always "play catch-up," he explains, in that wholesale decisions are made so that the technology you buy into justifies the investment. "In Japan they have a good situation – the technology they are using is expensive now, but will get less so." However, the risk is ever-present that consumers will move on to a new platform, leaving users stranded with an expensive and out-of-date technology. Of course, these risks apply no matter what the industry, and are not unique to industrial gases.
"The format is always changing," Glessner explains. "If you are a participant in this industry, sometimes you just have to jump on and ride whichever train you have chosen."
Glessner says that the third, significant impact is the willingness of Japanese industry members to share ideas for the best possible outcome. "It's tough in the US, because companies compete fiercely," Glessner says. "In Japan they also compete, but have a climate of respect and positive discourse – I'd call it co-opetition."
He can see direct lessons here that apply to how the TrackAbout and Lockhouse services complement each other. "TrackAbout helps its clients to be competitive; Lockhouse helps its constituents to be collaborative. Together, the result is co-opetition."
Lockhouse is interesting in that it both empowers the end-user, and gives useful feedback to the asset's owner. It can provide vital safety and service information, and has the potential to be universal and international. But perhaps its greatest appeal is straightforward: simply that the "lost" cylinder will become a thing of the past.