Our ongoing Feature Spotlight series highlights one important tool in the TrackAbout toolbox to help you operate more efficiently and maximize the utilization of your assets.
Flat Fees
This month, we highlight a feature helpful to our clients subscribing to TrackAbout's Rental Module. Through TrackAbout Rental, clients have the ability to incorporate the use of Flat Fees in their monthly rental process, allowing you to optimize your rental while ensuring your customers know exactly what they're paying for.
TrackAbout supports several kinds of flat fees which can be applied to all or a subset of your customers and in a variety of scenarios. Flat fees will be itemized on your TrackAbout-generated rental invoices to provide clear and transparent explanations to your customers.
1. About Rental Flat Fees
The general term, "Flat fee", refers to a pricing structure that charges a single fixed fee for a service, regardless of usage. However, TrackAbout uses the term in a broader sense for a way to apply itemized fees to rental invoices. These are often used to pass along costs to your customers for services such as "Hazmat Fees", "Cylinder Tracking Services", or "Equipment Delivery/Pick Up Services".
* Trackabout Tip: There are so many ways TrackAbout saves your customers money, time and effort. In turn, many of our clients implement a nominal asset tracking fee as a way to cover costs associated with using an asset tracking system. Often this is called something like "Asset Tracking Fee" or "Cylinder Tracking Service".
2. Setup
Setting up flat fees can be done without needing TrackAbout Support assistance and right from your TrackAbout website. However, if you have a large number of fees to set up, our TrackAbout Support Team is happy to assist by loading all of your Flat Fees in bulk.
The TrackAbout website provides a Flat Fees page to create and manage your Flat Fees. Once on the Flat Fees page, click Add New Flat Fee to get started.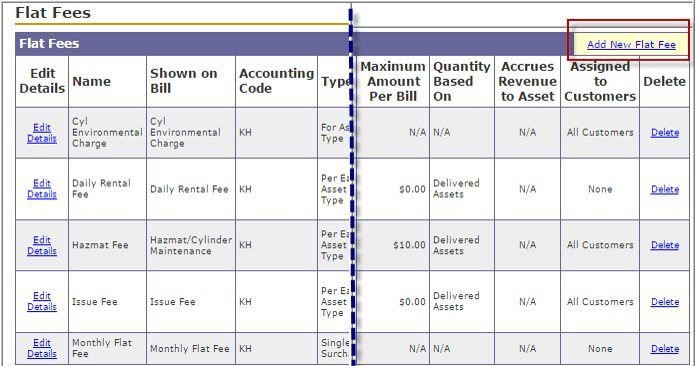 When adding a new fee, users can configure how it should be applied, to which products, and to whom it should be charged.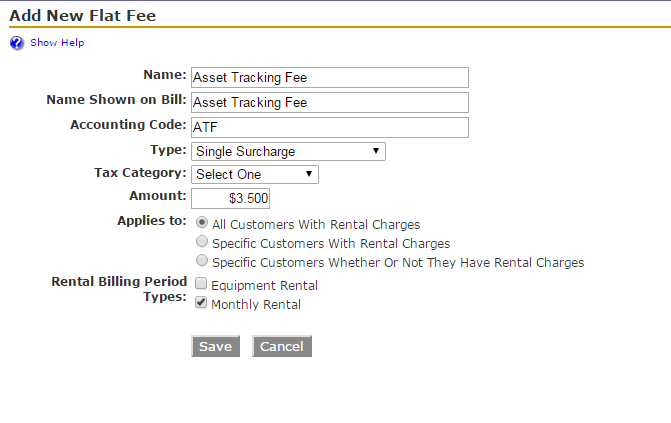 There are a selection of rental Flat Fee types to choose from
Single Surcharge

- Applies one flat rate for the entire bill

IF

there are rental charges on the bill.

Replaces All Rental

- This fee will be charged in lieu of any rental which may be calculated for the customer.

Per Each Asset of Type

- Applies a flat fee for each asset of given asset type(s) or of given rental class(es).

Per Asset Rent Day of Type

- This Flat Fee is applied to billed assets of the specified Rental Class or Asset Type. The amount of the Flat Fee is multiplied by the number of days of rent for the asset, after deducting the rent days for asset agreements and customer owned offsets.

For Asset Type

- This fee is charged only once if the customer has at least one of given asset type(s) or given rental class(es) on balance, regardless of how many of that type of asset the customer has, or how many types of asset the customer has. The customer is charged this flat fee only once per bill, even if the customer has multiple qualifying asset types on balance for the billing period.

Equipment Recurring Charge

- A charge which will show up on every rental bill for that asset.

Equipment Delivery Charge

- This fee will show up only on the rental bill which includes the delivery, which is the first rental bill for that asset.

Equipment Return Charge

- This fee will show up only on the rental bill which includes the return, which is the last rental bill for that asset.
Refer to the Flat Fees page on the TrackAbout Wiki for more information about these Flat Fee types.
3. Rental Invoicing
When rental bills are generated at the end of your rental billing period, any flat fees applied for that period will show, itemized, on the invoice. This way, customers will understand what they are being charged for, in addition to the regular rental charges.
Here is an example of how a Hazmat/Cylinder Maintenance flat fee will show at the bottom of a rental invoice: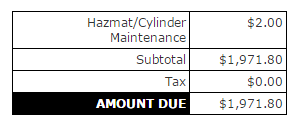 4. Implement fair Fee structures and transparency
Reduce customer questions

and issues by providing detailed rental invoices.

Multiple fee types and configuration

allows you to apply fees in just the way you need them.

Reduce manual error and actually

increase rental revenue

by making sure fees are always being applied as appropriate.
Rental Flat Fees are available to all TrackAbout Rental clients. For additional information about how you can use rental flat fees as part of your Rental processes, refer to our Wiki page TrackAbout Rental Flat Fees
Contact our Support team at support@trackabout.com with any questions.