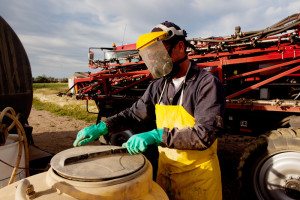 The word on the street is that the EPA will soon start enforcing the Pesticide Container and Containment Rule. Registrants and agricultural refillers, distributors, retailers, commercial applicators and custom blenders beware! If you haven't acted yet, you need to start tracking your containers now.
The good news is that asset tracking software can relieve much of your burden. TrackAbout provides a complete historical record for every IBC tote, drum, barrel, shipping container or RPC, spanning the life of the asset, and facilitates EPA compliance by:
Tracking containers with a unique identifying code, which associates container attributes such as serial number, contents, size, type and more,
Recording each time a container is filled, noting the pesticide, amount, EPA date and the tank identifying code,
Recording visual inspections, maintenance and cleaning procedures and ensuring they are completed properly and on time,
Tracking incoming and outgoing shipments, and
Alerting when tanks are due for retesting.
Clearly, the rule requires you to keep detailed and accurate records. With TrackAbout asset tracking software, employees collect data using smartphones, tablets or rugged handheld scanners that read barcode labels or RFID tags. All the data is stored in the electronic database which enables you to provide required information to inspectors at a moment's notice. Your company is better positioned to pass EPA inspections and avoid fines, facility closings or other costly penalties.
If you're not using asset tracking software to track your containers, you might want to reconsider your choice. Manual procedures require employees to follow a written process and complete paper forms, but human errors can prevent them from recording the data you need. Incomplete forms and illegible handwritten entries are useless. Paperwork can get lost. These inefficiencies can cost you a lot of time and money, and if you can't produce the data inspectors require, you could be in serious trouble.
Beyond regulatory compliance, TrackAbout offers a host of other benefits. Some of the most significant are:
Improved Asset Utilization
Information about who has your container, where it's supposed to be, how long it's been there, what's in it and when it's due to return is at your fingertips. Avoid situations where your containers sit idle at customer sites instead of being filled and delivered to another customer.
Automated Workflow Management
Because the software guides your employees through your unique required sequence of procedures, it ensures collection of accurate, essential data. TrackAbout timestamps actions to record when the procedures were performed and electronic signatures capture approvals.
Bulk Delivery Management
Eliminate lost paperwork that leads to billing mistakes. Your delivery driver enters the amount of product added to the bulk tank into the tracking system so it's correctly billed to the customer. TrackAbout offers forecasting abilities that predict when customers will need to be resupplied.
Tracking of Other Equipment
You might have a need to track accessories like valves and pumps. You can also track maintenance due and actions performed on other equipment you own.
Improved Customer Service and Loyalty
TrackAbout allows you to extend your tracking system to your customers so they can track and view information for your containers located at their site.
The benefits of using asset tracking software are compelling. Leveraging technology to collect data not only improves efficiency. It also provides peace of mind, knowing that you'll have the documentation you need to pass an EPA inspection.