This article originally appeared in the December 2014 issue of gasworld.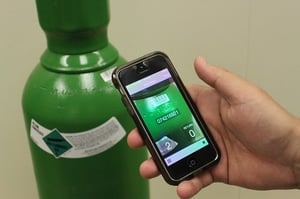 Smartphones and other sophisticated mobile devices have taken the world by storm – fundamentally changing the way many of us interact and work every day. People can now carry a small, relatively inexpensive powerful computing device with internet connectivity with them wherever they go. This has meant that, for better or worse, more people find themselves 'always connected'. However for businesses, especially industries that manage lots of assets, these devices are nothing short of a positive game changing force in mobile asset management.
For decades, expensive devices like rugged handhelds were the only viable option to automate, scan, and electronically track assets. Today, the hardware and software capabilities of smartphones meet and often exceed those of rugged handhelds, for about a tenth of the cost – or even no cost for certain applications, given that these devices are already in widespread use. By the end of this year, there will be more mobile internet devices than people on earth – smartphones alone represent about a third of that total, with expectations that smart devices will become a majority of total mobile devices by 20181.
The unique hardware capabilities of smartphones are also key to asset management industries like packaged gas – and can be harnessed by the right software to manage assets more effectively. Smartphones not only have internet and phone/messaging connectivity, but also a built-in camera – capable of rapid scanning of barcodes and QR codes – a GPS system, a media player (video and audio), near-field communication capabilities, and more.
Industry software leaders TrackAbout and its affiliated company Lockhouse now offer two unique solutions for industries to better manage their assets – using applications designed for use on the smartphone. TrackAbout tracks assets on the grid (internal management by owners and their employees) and Lockhouse manages assets off the grid (communication with end-users and asset recovery).
Extending asset information throughout the enterprise
Accurate, timely data is one of the most important factors in effective cylinder and mobile asset management. Asset tracking software and rugged handhelds make it possible to collect data efficiently and reduce manual errors.
However, data collection is limited by the number of handhelds available. Because they are expensive, rugged handhelds are usually only purchased for employees who use them all the time, such as drivers and fillers. This can be a problem when extra devices are needed for a big cylinder audit.
TrackAbout's smartphone application eliminates scenarios like this by extending tracking capabilities to every employee with an Android or iOS device, enabling a more mobile workforce. Large audits no longer paralyze daily operations. The application's continuous mode scanning enables the device's camera to scan barcodes quickly. When untracked cylinders are discovered during the audit, the 'Add New' feature quickly adds them to the customer's balance. All of this happens in real time over the mobile connection. If the customer is outside mobile coverage, the offline mode stores the data until a connection becomes available.
Previously, employees would have to write down the barcode number and type it into the application website or hunt down a handheld to scan the asset. Now, smartphone-enabled employees can scan a barcode to assign a cylinder to a specific location or view its history and details, from anywhere at any time. During a routine customer visit, sales reps can spot check cylinder balances and offer milk run service. The deliver/return function features electronic signature capture to record proof of delivery (see picture, right).
TrackAbout plans to develop all current cylinder tracking modules for the smartphone application, with three more coming in early 2015: the Maintenance module enables the recording, tracking and reporting of cylinder maintenance, inspection and testing actions, identifies cylinders with maintenance due, and generates maintenance detail reports for each asset; the Paperless Delivery module allows workers to record deliveries to customers without the need for a paper delivery ticket; and the Truck Load and Manifest module which tracks truck inventories during loading and unloading.
Managing assets off the grid
The world of physical industrial assets has not been able to keep up with the advances of the internet and mobile revolutions for the simple fact that assets have traditionally had no internet connectivity. They cannot communicate with end-users, or communicate things like their location and physical state – resulting in increased customer service costs, inefficient product information distribution systems, safety and liability risks, information silos, and physical product loss through damage, theft and 'falling off the grid' of traditional asset tracking systems.
Lockhouse changes that system by making industrial assets smart. Lockhouse is an interactive network for industrial assets enabling a revolutionary information exchange between asset users and manufacturers/owners. It is a web application designed for use on mobile devices that operates in the following ways:
As a search engine and 'social network' for industrial assets – with unique asset profiles containing critical information end-users need
As an asset information content management system
As a crowdsourced 'lost and found' system
And as a bridge between disparate industry data silos.
Lockhouse enables users to search by asset serial number or scan a Lockhouse Passport Tag on their smartphones or other mobile devices to look-up critical information while they are standing in front of the asset. Owners and manufacturers can use Lockhouse to deliver ownership titles, inspection forms, manufacturing data, safety information, recalls, videos, and more. Lockhouse allows easy data exchange between several previously digitally disconnected groups: manufacturer, owner, end-user, retester/refurbisher.
Private data can be kept private or shared only with certain users (like inspectors), and critical public data can be shared in real time. Lockhouse software allows you to manage critical asset information content, optimize it for mobile users, and manage those users. Lockhouse empowers end-users to determine ownership and access other unique, critical information – making the work they do with these assets safer and more productive.
Crucially, Lockhouse also gathers asset/user location and feedback to help notify the owner if there is a problem, facilitating repair or recovery of damaged, lost, or stolen assets that have 'fallen off the grid' and 'into the black hole'.
Smartphones: Solving pain points now
By adopting smartphone technology, asset management industries can move quickly and cost-effectively into the current reality where employees, customers and end-users demand more and more information delivered in real time, and companies need to gather more reliable data about their assets. Smartphones are uniquely positioned to solve those pain points now using smart software solutions.
In the words of Jamey Hilleary, Director of M2M Products Elecsys Corp., Remote Magazine, "Industry cannot sit and wait for the evolution of communication technology to end because that will not ever happen. In order to acquire and manage the vast amounts of data required to efficiently operate large industrial concerns, we must leverage new technology as it becomes available."
---
REFERENCE
Cisco Visual Networking Index: Global Mobile Data Traffic Forecast Update, 2013-2018