Tracking your physical assets with enterprise-class asset tracking software like TrackAbout makes great financial sense. But some people (your boss?) may need some convincing.
Here are 52 great reasons to start tracking your physical assets with the TrackAbout asset management system.
---
1. You hate buying more of something you know you have, but just can't find.
Stop wasting money replacing something you didn't lose, but just lost track of. Improve your asset utilization, stop profit leakage, and earn more money per asset. Put those assets to work!
2. TrackAbout pays for itself in less than a year.
Our customers realize a return on investment (ROI) in less than a year.
3. You'll know which customers lost which assets, and you can prove it.
Hold your customers accountable with data. The arguments go out the window when they see how well you're tracking what you're giving them. True story.
4. It just feels good to be organized and in control of your assets.
Sleep soundly. You got this.
5. Increase your rental revenue
TrackAbout customers enjoy an average rental increase of 8% using our rental module.
[gallery link="file" size="medium" columns="4" ids="1931"]
6. Assets "disappear" off your trucks
Start scanning assets on and off the trucks using Truck Load. You'll be amazed how things stop disappearing.
7. You've always wanted a crystal ball
Asset tracking helps you proactively predict what your customers will need based on historical usage patterns, helping you better manage supply and inventory.
8. Tracking can help find flaws in your processes and fix them.
"Sunlight is said to be the best of disinfectants" - Justice Louis D. Brandeis.
Shining a light on a process by tracking it can reveal many opportunities for improvement.
9. Save the trees!
With Trackabout Proof of Delivery, all order details are on the mobile device. Your drivers no longer need to carry clipboards full of paper for deliveries, and your administrators don't need to try to decipher driver chicken scratch. Besides, printer ink is over $1,400 per gallon!
10. We're proven
TrackAbout has spent the last 15 years serving global customers both big and small. TrackAbout is the best physical asset management system in the world.
---
Convinced already? How about requesting a demo?
---
11. You can't find your assets with both hands.
Where was that asset last? Who had it? Stop wondering. Every asset, every time it's moved, every time it's been maintained, every customer its visited, at your fingertips, forever.
12. You have everything you need right in your pocket.
You can get started tracking with just a smartphone.
13. Get alerted for required inspections and maintenance.
Do you know which assets are due for maintenance? Which have required inspections coming up? Are you in a position to recover those assets in time? With TrackAbout Asset Maintenance, you can get alerted in advance for any type of periodic maintenance so you can get the job done before the auditor shows up.
14. Automate all the things!
A great asset management system is a gateway to automating many other aspects of business, such as delivery paperwork, fill worksheets, and other data-driven reports.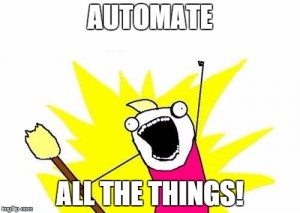 15. Reclaim stale inventory
Do you know how many assets have been in the field 6 months or longer? Would you like to?
16. Meet regulatory requirements
The government sure seems to care what's up with your stuff. Shut them up and don't get shut down for a failed lot recall or undocumented maintenance. Use TrackAbout to achieve compliance.
17. Lot tracking
Lot traceability is key. When it really matters, you need to know where everything is and how best to recover it. Without upending operations. With TrackAbout you can scope a recall effectively, identify which items pose the greatest risk, and locate them for a speedy recovery.
18. You need to know the next time a specific asset is moved.
Set an alert, and get notified.
19. Your competition is tracking their assets
The global industry leaders are doing it. It's time you realized the same gains they've been enjoying for years. Read 5 Things Your Competitors Can Teach You about Asset Management
20. Your IT team will thank you.
TrackAbout is delivered as Software as a Service (SaaS). No servers to run, back up, or upgrade. Our mobile applications automatically update themselves.
---
Bam! 20. I can see you're picking up steam here, so I'm going to leave you be. For now.
---
21. You're sick of your drivers making mistakes.
TrackAbout customers caught and fixed billing mistakes on an average of 4% of all deliveries.
22. You think you know how many assets you own?
Our customers are routinely surprised to learn what they really have once they start tracking. It's like finding a crumpled $20 bill in that old pair of jeans, times 1,000.
23. Two important things are in short supply: TIME and MONEY.
TrackAbout can save you both of these.
24. Your employees will thank you.
Empower your employees with the tools they need to do a better job.
25. Bill faster
Sorry, Bill. We're not talking about you.
Reconcile your deliveries with your orders days sooner than with manual paperwork. Bill your customers immediately.
26. Get answers when you need them, where you need them
TrackAbout is available everywhere you need it to be. On your desk, on your phone or on your tablet.
27. Know when "lost" assets are found
Assets and equipment may go missing, but they also get found. With TrackAbout, you'll know when they do.
28. Paper and spreadsheets can only get you so far.
At best, manual tracking can tell you what you HAD. Maybe where it went. A dedicated enterprise asset management system can tell you each asset's history, who has it now, where it was last moved, what its present condition is, and what its utilization efficiency is.
29. Curious about that asset in front of you? Scan it!
Instantly know its contents, maintenance, complete history going back as long as you've been tracking.
30. Stop customer arguments in their tracks.
Customers who dispute their balances don't have a leg to stand on when you're tracking.
---
You made it past 30! I can see you're made of some stern stuff. So are we. How about a demo?
---
31. You can't know what you don't know.
You know?
32. TrackAbout is low risk
You can begin tracking with minimal effort, gradually increasing your coverage over time. Plus, no one ever gets fired for adding efficiency, insight, and control with minimal overhead and cost. They DO get fired for losing assets and wasting money, however.
33. Be proactive rather than reactive.
Identify issues in your company processes before they become real problems.
34. What happens in TrackAbout ... stays in TrackAbout!
We have customers who have been tracking for over ten years. Imagine the insights you could gain with ten years of data! Why didn't you start years ago?
35. Scanning with mobile devices makes you feel like you're in Star Trek.
Just don't wear the red shirt to work.
36. Where is your time best spent?
Time saved eliminating manual processes becomes time spent using tracking data to increase revenue, maximize product usage and identify customer trends.
37. Knowing where your assets are NOT can be just as important as knowing where they are.
Avoid sending drivers on recovery trips to places where assets aren't.
38. Barcodes and RFID tags are gluten-free, dairy-free, antibiotic-free and non-GMO.
Also, high in fiber.
39. Your customers may have more of your assets than you realize.
You're leaving a lot of money on the table there.
40. Your customers may have exactly the right number of assets.
But how would you know this if you're not tracking?
---
40 reasons strong! I like the cut of your jib! Surely you're a person of action. Request a demo now!
---
41. Stop manufacturing to fill demand when you already have what you need.
Look across all locations for what you need instead of making or buying more.
42. You get a smartphone! And you get a smartphone! Everyone gets a smartphone!
43. Your customers may be, um, "swapping" with each other or otherwise gaming the system to reduce their rent.
Build the evidence you need with TrackAbout.
44. TrackAbout is not tested on animals.
It IS however tested by a top-notch software quality assurance team.
45. TrackAbout bends where other systems break.
Things go wrong in the real world. Workers forget to scan, mark things delivered instead of returned, and deliver empty assets. TrackAbout has the smarts to catch mistakes like these and more.
46. TrackAbout integrates with your accounting system.
TrackAbout has integrated with dozens of systems and we can integrate with yours.
47. Get your evenings back.
Tired of being in the office late verifying deliveries? TrackAbout will compare the orders to the deliveries and verify them for you. Let us do the heavy lifting.
48. It gives you something to sell to your customers.
Sell your customers access to their own micro-tracking service with Follow-On Tracking®. They'll love you and never leave you.
49. Enforce process
Has an employee ever delivered empty product? Manufactured the wrong thing? Contaminated inventory? Get some process enforcement and clean up everyone's act.
50. Libraries can recall overdue books. Why can't you recall overdue assets?
You know you've got assets out there ready to come home. Find them and make it happen! Increase your asset turnovers and squeeze the most out of each one. True story!
51. Enough with the paper forms already!
Convert your checklists to mobile app screens using Dynamic Forms. Stop pushing paper!
52. Increase trust with your customers
We've collected many stories from our clients showing how they have increased trust with their customers through accurate asset tracking. When you trust your data, you may find benefits in sharing it out to your customers as well.
---
Whoa. You went the distance. Kudos to you! How about sitting back, relaxing and letting us do some work now? Request a demo.
---
Tip of the hat to the many fine employees of TrackAbout who contributed to this list.