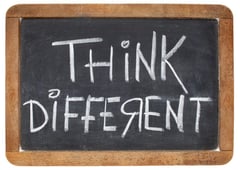 New technology is transforming the way companies manage their assets. Asset management is not simply about knowing where your assets are. Today, it's about providing a complete history for every individual asset and using this information to achieve operational advantages. If you're still using a manual system to track the comings and goings of your equipment or if your current software system only tracks the location of your assets, your competitors just might leave you in their dust.
I know. It's hard to concede that there are things our competitors do better than us. Our tendency sometimes is to ignore this fact, choosing to believe that we always know what's best for our business. But instead of turning a blind eye, we really should take some time to find out exactly what our competitors are doing and think about how we can apply it to our business.
Here are five things your competitors can teach you about asset management. How might they improve your business?
Workflow Management
Companies are gaining added value from their asset tracking software by fully exploiting data collection capabilities. Not only do they know the location of their assets, they also are streamlining and simplifying business processes. Automated task sequencing eliminates unnecessary steps, increases worker compliance with defined operating procedures and standardizes workflows yielding improved process control.
Maintenance Tracking
Companies are also using asset tracking software to record, track and report on maintenance performed on their assets. They never miss a required inspection or maintenance due date. Detailed and accurate records ensure that assets are performing in line with manufacturer warranties and can be essential in supporting a case in a lawsuit over faulty equipment.
Regulatory Compliance
Misplaced log sheets, missing approvals and unrecorded or forgotten procedures can lead to failed inspections, fines, facility closings or other costly penalties. Asset tracking software can collect the information you need on an ongoing basis and store it safely to ensure that required documents can be supplied to regulators at a moment's notice.
Business Growth
Asset tracking software helps retain existing customers and win new business. Being able to provide customers with accurate, indisputable information about delivery, asset balances and pricing, earns trust which, in turn, builds lifetime customers.
Equipment Purchases
Companies that use asset tracking software know how long assets have been sitting unused at customer sites and which branch locations are hoarding them. Because they make more efficient use of their assets, expenditures on new equipment are reduced and more business is serviced with the same amount of assets. Eventually, new assets are purchased to accommodate additional business growth.