This article originally appeared in the January 2016 issue of CryoGas International. It is reprinted with permission.
---
Award-winning author Thomas Friedman said, "Big breakthroughs happen when what is suddenly possible meets what is desperately necessary." (http://www.nytimes.com/2012/05/16/opinion/friedman-come-the-revolution.html) Friedman was referring to the "college education revolution" where advancements in technology made it easier for more people to receive a college degree for a lower cost via an online platform. But history is full of big breakthroughs resulting from innovations that filled a desperate need. The printing press gave greater access to information and set the stage for a transformation of social literacy. The steam engine enabled growth of the railroad and boosted intercontinental trade. Electricity sparked a host of other inventions that account for most of our modern life. And now, cloud technology and mobile computing are changing the way compressed gas distributors operate.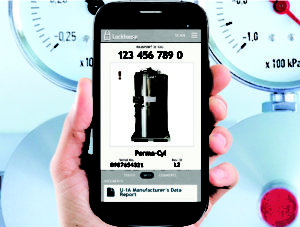 Improving efficiency, reducing expenditures, and eliminating waste are always a concern for any business. It's really nothing new. In the compressed gas industry, efforts are continually focused on how to improve asset management. Every cylinder has a potential to earn money. When cylinders sit empty at customer sites, get lost, or are improperly maintained, it costs money. Underutilization results in the unnecessary purchase of more cylinders to meet demand.
But the pain doesn't end there. The inability to share data among supply chain partners results in redundancy and promotes inefficiency. As cylinders move back and forth from supplier to distributor and from distributor to customer, tracking information must be re-entered into each company's system. Having multiple systems of record increases the likelihood of balance disputes, which require a lot of time and energy to resolve.
Then there's the black hole — that mysterious place where lost or stolen cylinders end up after falling off of the tracking system. These cylinders get written off and distributors incur the added expense of purchasing new ones.
There's also the challenge of getting critical asset information to the point of use. Workers in the field — such as medical gas providers, restaurant inspectors, construction workers, and repairmen — all have a need for important notifications like warnings and recalls. And they could also find it useful to access operating procedures and inspection checklists.
The industry is desperate for a solution to these issues. Now, cloud technology and advancements in mobile computing are enabling a more mobile workforce, automating key processes, delivering more information to end users in real time, building a more connected supply chain, and fostering collaboration. Small and relatively inexpensive, the smartphone is actually a powerful, portable computing machine equipped with internet and phone/messaging capabilities, a built-in camera now capable of rapidly scanning barcodes and QR codes, a GPS system, a media player, near-field communication capabilities, and more. The cloud enables all of these features to send and receive critical information so long as there is a wireless or cellular connection. The impact is transforming the industry.
Affordable Mobility
The combination of cloud technology and advancements in mobile computing make it easier to establish a more mobile workforce. Due to the cost involved, it's nearly impossible to provide every employee with a rugged handheld device, so cylinder tracking information is limited to a few select people. TrackAbout's smartphone app extends asset tracking capabilities to every employee with an Android or iOS device. Sales reps can conduct small customer audits during routine visits. Audit teams can complete larger customer audits faster and more often without tying up rugged handhelds. Any employee can capture proof of delivery when making an emergency delivery.
Automation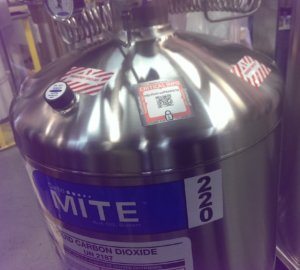 Converting paper forms to electronic screens on a mobile device minimizes paperwork and improves accuracy by streamlining and simplifying business processes. When task sequences are automated, workflows become standardized and worker compliance with defined operating procedures improves. This gives better process control, which leads to better customer service. TrackAbout automates key processes for gas distributors, including the fill process, lot recalls, maintenance, pre-trip truck inspections, truck reconciliation, customer cylinder audits, internal/branch audits, management of customer-owned cylinders, and cryogenic site inspections.
End-User Accessibility
Barcodes and QR codes make assets "smart." They allow users to access critical information at the point-of-use, thereby reducing customer service costs. The gas industry is already embracing this concept through Lockhouse, our affiliate company. (See related story, "Lockhouse: Answering Demands for 'Smarter' Assets and Connected Networks," CryoGas International, March 2014, page 42.) Cylinder and bulk tank manufacturers and owners are adding warnings, recall notices, standard operating procedures, technical bulletins, repair and recalibration instructions, inspection reports, service records, and lost or stolen asset alerts. Operators, inspectors, and repairmen access this data through a smartphone application. They also report on damage or service required, perform inspections, and earn a reward if a lost or stolen asset is recovered.
Connected Supply Chain
Gas distributors, cylinder manufacturers, retesters, and refurbishers all have valuable cylinder information trapped in data silos inside their own four walls. Technology enables the breakdown of these silos in order to share nonproprietary information, eliminate redundancy, and improve efficiency. For example, supply chain partners who use TrackAbout can see the exchange of cylinders between their facilities. As information is entered into one system, the data is automatically updated in the partner's system. This eliminates the need to re-enter information into multiple tracking systems. Because both partners view identical data, balance disputes are eliminated and any discrepancies can be resolved quickly. TrackAbout shares only the cylinder's current properties, keeping proprietary information private.
Furthermore, TrackAbout and Lockhouse have partnered with cylinder manufacturer Chart Industries and retester/ refurbisher Gateway Cylinder in order to provide TrackAbout Ready cylinders to their customers. TrackAbout Ready cylinders have all of the key attributes stored in Lockhouse, ready to upload into the customer's TrackAbout database when an employee scans them as received. There's no need to apply barcode labels or manually initialize cylinders.
Crowd-Sourced Collaboration
It's a problem as old as the industry itself: how to recover cylinders when they're no longer on the tracking grid. The truth is that any tracking device attached to a cylinder can be thwarted by thieves. But the thieves can't stop the power of the smartphone. More than 2.1 billion people are mobile internet users and each one of them can find a lost or stolen cylinder simply by scanning the Lockhouse Passport Tag, a QR code that allows users to access the cloud-based Lockhouse application to receive asset information, or by entering the asset's serial number directly into the application. With the user's permission, Lockhouse captures the asset's GPS coordinates so missing cylinders can be returned to their proper owner.
With our customers and our partners, TrackAbout and Lockhouse are building a network of connected data to change the way the industry operates. Companies that embrace it will see rewards that greatly exceed what's possible with manual tracking or tracking within the four walls of their business. Those that choose not to move forward may find it hard to compete in this new era.